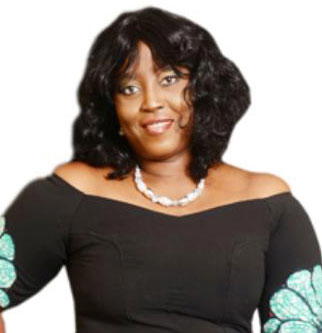 •Philomena Bivese-Djebah
By joan Atamua
Dr. Philomena Bivese-Djebah, a certified marriage counsellor and founder of Joyful Tears Initiative, recently launched her first book titled: Ofunneka. The event took place at the Governor's Place, Omole Phase 1, Ikeja Lagos, before friends and family members who had come to show their love and support.
The book was reviewed by Dr. Solomon Iguanre, head of Department of Language and Literary Studies, Babcock University. The reviewer explored the author's capture of chains of realities of her environment. The 112-page book with sweet and alluring diction touches the life of the autonomous character, Ofunneka. It is a story about an enigmatic, adorable, and good natured woman. The book, Dr. Solomon said, serves as a manual and signpost for prospective and married couples. "It has therapeutic potentials, heals the wounded, as well as gives succour to the downtrodden."
Some of the themes of the book include Voluntarism, Peace of reunion, Generational challenges, Philanthropy, Generational problems, Marital bliss, etc. The author in the book depicts men as dangerous and monstrous apparatus. She argues that 80 per cent of the women in the book had one sour tale or the other to tell about their husbands, saying that women are their worst enemies.
Comparing her generation to that of today's generation, the reviewer quotes author: "I still remember that if my mother told me to jump, my response would be "how high?" but now, if you tell your children to jump, their response will be "why?" He recommended the book to all and said it was an award-winning book because of the many lessons to be learnt from it.
After the review, Mr. Daniel Egwu, Mrs. U. I., Prof. Onokome Okome and Mr Victor Anazonwu read some parts of the book which they felt will intrigue readers.
In her speech, the author, Philomena Bivese-Djebah, said: "Ofunneka depicts the supremacy of siblings, a story of a woman who is dogged". She said everyone had one form of challenge or the other, be it marital, financial, emotional or the challenge of raising kids; that no matter what one may be facing, one must avoid being judgmental, especially if one does not understand why people behave the way they do.
That, however, does not mean that we should condone bad behaviours.
"We can only energize each other when we understand that we are different, our pain threshold is different and we respond to situations differently," the author said.
"This is a novel meant to draw attention to counselling. People rarely ask for help. So, lack of counselling makes instability in marriage to increase. Ofunneka gives you a platform for understanding that people don't just become successful by themselves but also need social support…"
She argued that marriage is not a fifty-fifty affair; that one of the partners has to be stronger while the other plays the fool. It is always the woman who plays the fool. She is also the bin. The woman, she said, condones as much as she can, and that the weight of a successful marriage is always hinged on the woman.
"Real men understand that it takes two to achieve a successful marriage. Marriage is blissful and challenging," she went on. "It's one thing to have a man and another to have a functioning man," she said.
Mrs. Sylvester unveiled the book with a sum of N2 million, opening the floor for others to partake in the launch with various amounts of money.