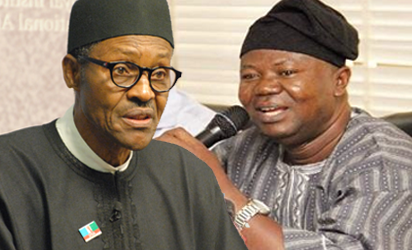 President Muhammadu Buhari and ASUU President, Prof. Biodun Ogunyemi
By Abdulmumin Murtala
Kano—Academic  Staff Union of Universities, ASUU, has denounced moves by chairman of Government Renegotiating Team with ASUU, Dr. Wale Babalakin, SAN, to increase tuition fees in public universities and establish education banks.
Kano Zone Coordinator of ASUU, Mahmud Lawan, who made the denouncement at a briefing in Kano, Wednesday, said: "The chairman has deliberately disregarded the cardinal principles of collective bargaining, delayed the process, relegated the other members of the Federal Government team to the background and arrogated to himself the power of decision-making in matters that should be collectively debated and agreed upon by the parties to the renegotiation."
He explained that payment of tuition in Nigerian universities was unconstitutional as education remained a right and a public good.
According to him, the introduction of education banks will do nothing better than enslave students and make them indebted for life.
He also declared that ASUU was with the labour union in its efforts for the betterment of the life of Nigerian workers who are also producers and preservation of the wealth of the nation.
Lawan lamented the lack of responsiveness of government to the needs of public universities, stressing that government was out to destroy university education as it had done to primary and secondary education in the country.
He also expressed regrets that the Federal Government failed to commit up to 10 per cent of budgetary allocation to the education sector, against the 26 per cent recommended by United Nations Educational, Scientific and Cultural Organisation, UNESCO.
He added that there was no logic in creating new universities whereas the existing ones were under-funded.
On whether strike was the only solution for the labour in the country, the ASUU boss challenged those with better alternatives to come forward with them.
"To ASUU, strike is always the last option to make government responsive because it appears they don't understand the language of negotiations," he declared.
''The union finally requests all well-meaning and patriotic Nigerians to prevail on the government to return to the negotiating table and conclude the 2009 ASUU/FGN agreement to address the outstanding issues in the 2017 MoA in order to avoid industrial disharmony in the Nigerian university system.
"There is need for government to understand that governance is about responsibility, integrity, honor, respect and accountability to the people of Nigeria.
''Once you enter into negotiation with trade union, you have to complete it and eventually ensure the full implementation of the agreement reached," Lawan stated.