By Prisca Duru
In line with its commitment towards promoting arts and culture in Nigeria, the Wheatbaker Hotel Lagos, is hosting 'The Contemporaries II', an exhibition by three artists who have contributed immensely to the vibrancy of Nigeria's contemporary art scene.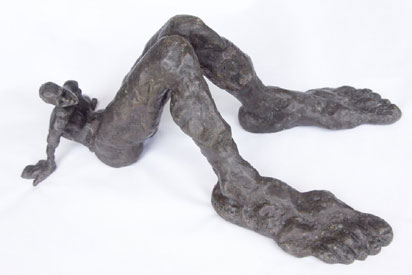 'The Contemporaries II' which opened  on October 1 in celebration of Nigeria's 58th  Independence, is showcasing 38 sculptures, paintings, and mixed media works by Kainebi Osahenye, Kenny Adewuyi and Kelani Abass.  The exhibition "presents strong visual narratives and powerful figurative abstractions which explore historic socio-political narratives, the dignity of labour, technology, and the environment vis-a-vis unbridled consumerism."
Supported by the Wheatbaker and Louis Guntrum Wines, 'The Contemporaries II' runs from October 1, 2018 to January 15, 2019 in Lagos; and from October 4 to 7, 2018, in London.
Cryptocurrency scams: How exchanges are responding
'Broken Spirit', 'Some Have Eyes But Cannot See', are titles of some of the works through which Kainebi Osahenye captures the anguish of human existence in the country. He combines spray paint with oil, pastel, and acrylic, to express his disappointments.
"In my recent work, I have been engaged with the idea of melancholy. Pain can drive one to a place of isolation. The African American preacher TD Jakes once said that 'the fervency of prayer is borne out of pain'. As a people, we have had really bad times and even still treading on rough edges. The marks of pain are now deeply edged on the faces of people across our landscape. We continue to sit and wait for a change to come.
Indeed, Nigeria has been in a reclining position for too long waiting for her light to shine. Blinded by her corrupt practices, she is unable to see and utilize the enormous treasures buried within her…The energy that I seek or display in my work, in a way, appears like a prayer. And prayer to my mind possesses the potential to deal with pain," Osahenye explained.
2019: South/ Middle Belt won't vote candidate who does not believe in restructuring – Clark
Multiple award winning artist, Kelani Abass creates intricate multi-media works, in which small mechanical parts retrieved from his family's printing press, are layered with photographs and archival materials as he explores personal stories against the background of social and political events frozen in time and memory.
In his 'Man and Machine' series, Abass explained that he "Probes the shared history and character of men and machines through a wide range of different media including installations, acrylics, oils, pastels and charcoal. I engage the use of technology with the printing press, which I use as a metaphor for obsolete materials…"
Kenny Adewuyi's emotive sculptures of elongated figures and exaggerated limbs with titles; 'Disillusioned', 'Woman In Deep Thoughts', 'What's On Your Mind' etc, are in recognition of humanity's universal struggle for survival and sustained livelihoods.