By Sam Eyoboka
RECOGNISING the sensitivity and importance of credible elections to a democratic process, the Diocese of Lagos West, Church of Nigeria (Anglican Communion), recently inaugurated its Election Sensitization, Mobilisation and Observation Committ-ee to participate in the proposed 2019 general election.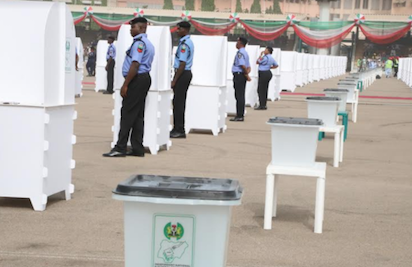 Addressing the committee members at the Archbishop Vining Memorial Cath-edral Church, Ikeja, the diocesan bishop, Rt. Rev. James Olusola Odedeji charged members to add seamless value to the name of the diocese, "to have earned the accreditation of the Independent National Electoral Commission, INEC, at its inception, the integrity of members of the committee is never in doubt."
"We are privileged to have men and women of proven integrity, who, to the glory of God, will add seamless value to the name of the diocese, looking at the pedigree of the chairman and other members of the 2019 committee," he stated, adding that it's on record that the committee performed excellently during the 2007, 2011 and 2015 elections.
Giving reasons for the committee, the bishop told newsmen that as another election approaches, the period should be seen as a season when governance takes the back seat and electioneering campaigns take over because "politicians have a perculiar way of doing their things and, the church as a moral compass of the society has a duty to call attention to things that could affect our collective well-being as well as guide the people in making the best choice among the array of political parties and candidates."
Pointing out that elections constitute a vital pedestal on which democracy rests, Odedeji emphasised the need for Nigerians to strive to improve on the conduct, noting that it's a duty too crucial to be left to INEC, political parties and politicians.
"We must all join hands together to save this country. As our own contribution to building a new Nigeria, this diocese has been in the forefront of encouraging good governance through sensitizing and educating the electorate at every general election.
"This year, we have decided to do no less and have already started by sensitizing all members of our churches towards abtaining their permanent voters cards, (PVC) and encouraging them to vote. This is our duty as followers of Christ and good citizens of Nigeria," the cleric stated.
He maintained that Nigeria is currently in a mess because the good people have failed to do what is expected of them.
"Vote buying remains the order of the day, opponents are undully maligned and cacpacity is down-played," he added.