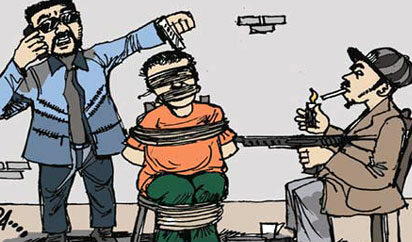 Kidnap
By Ifeanyi Okolie
TWENTY-FOUR years old man, Chinindu Innocent, arrested by operatives of the Inspector General of Police Special Intelligence Response Team, IRT, for staging the kidnapping of the mother of his girlfriend, said he did it because the girlfriend's mother could not stop her daughter from seeing another man.
Innocent and three other members of his gang, identified as Ekendu Chidiebere, Tochukwu Samuel and Ikechukwu Nwankwo, who also took part in the kidnapping in Ukwa West Local Government Area of Abia State, were rounded up by the IRT operatives led by Deputy Commissioner of Police, Abba Kyari, few days after they released the victim and collected a ransom of N300,000 from her relatives.
Speaking with Vanguard at the Force Headquarters, Abuja, where they are being detained, Innocent said: "The woman we kidnapped was my girlfriend's mother and I got myself linked into their family through their phone charging business.
"They have a telecom mast in their compound and I used to go their house to charge my phone. I then made friends with them and the woman's second daughter became my girlfriend and we started dating.
"But few months into our relationship, I discovered that the woman's daughter was seeing someone else. I confronted her about it and she threatened to end the relationship. I told her mother about it and she did nothing.
"Unluckily for me, my cousin, in whose house I reside in Aparazu Ogwu community, approached me and sold the idea of kidnapping to me.
"He told me that one of his friends, known as Onyemywa, who has made money from kidnapping told him that people in the community where we reside could pay us huge money when we kidnap them.
"I then suggested that that we should kidnap my girlfriend's mother. I must confess that the woman has been nice to me, but the misunderstanding between her daughter and I made me restless and I needed to punish her.
"I asked my brother to bring in his friends to kidnap the woman and we agreed that I will be on ground when she will be kidnapped because I was the only one who could know when she is at home.
"I did what they wanted of me and on the day she was kidnapped, I was at her house and we were both picked up and taken to a forest in Omuma Village.
"We were blindfolded when we were taken into the village and I was with the woman all through. My gang members demanded N1.5 million from her brothers, but they ended up paying us N300, 000.
"The worst issue was that our gang members who took the money refused to give my brother and I our share.
https://newlive.vanguardngr.com/2018/09/court-remands-welder-for-attempted-kidnap/
"They said that they were angry because they thought that the woman's relative will pay more than they did, but while we were trying to get our share of the money the police came and arrested me and my brother and we confessed to the kidnapping and they arrested the two other members of our gang."