By Peter Okutu
ABAKALIKI—GOVERNOR David Umahi of Ebonyi State yesterday called on the Independent National Electoral Commission, INEC, and security agents not to take any side while discharging their constitutional responsibilities in next year's general election.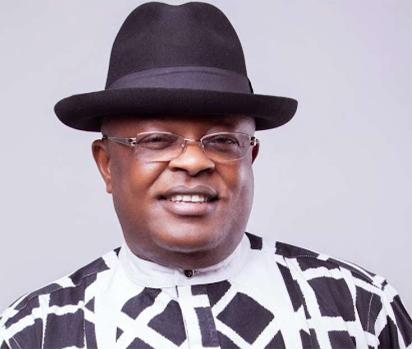 He stressed that the neutrality of the electoral body and the security agents would preserve the unity of the country and provide a free, fair and credible  general election.
2,000 benefit from NAS free healthcare
Addressing National Defence College Course 27 Participants led by Commodore Murtala Bashir who paid him a courtesy call at the Government House Abakaliki, Umahi urged politicians to eschew violence and shun bitterness and rancour.
He condemned the killings of three persons in Ebonyi State during last week's All Progressives Congress, APC, National Assembly primaries in Onueke, Ezza South Local Government Area of the state.
Osun poll : Don't heat up polity with hate speeches,CEPEJ tells politicians
Umahi said: " I advocate that the leaders of this country should do everything possible to lower the tempo of politics and look more into securing the future of our youths. This is very important. People that are aspiring to political offices are not to help the people. It is all about  answering a name and  stealing money.
"If I were God, I would say whoever that doesn't have a handwork should not come into leadership. You must have what you were doing that you know you were sustaining yourself with before you now come to lead your people.
"People that never saw N1 million before now want to control billions. Don't you see that there are certain lives in our society that are evidence of tramadol? The tension in the society today is getting worse.
Nze Duru beats 3 others to clinch Anambra House of Reps seat
"Ordinary primary election, a particular party killed three people in our state. It is one party and not party versus party. So, we need your prayers for 2019 even though I continue to say that the future of this country is in the hands of the security agencies and INEC because the security man ought to be very neutral.
"But the moment that neutrality is not there, then the civilians must go and learn the act of anti-terrorism because  if those that are supposed to defend the people now turn against them, then the people must have to learn how to defend themselves."