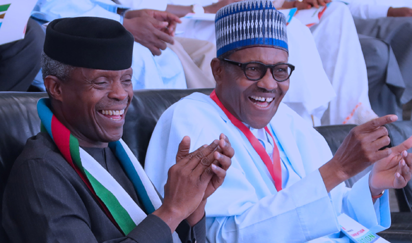 President Muhammadu Buhari Chats with the Vice President Yemi Osinbajo others during the 2018 National Convention of the Party at the Eagle Square in Abuja.
LAGOS—THE Buhari/ Osinbajo Mandate Group, BOMG, in Lagos State has promised to mobilise youths, especially in the South West and South East, as well as Northerners, who reside in Lagos for the re-election of President Muhammadu Buhari and Vice President Yemi Osinbajo in the 2019 general elections.

The group said this at a press conference held in Lagos.
Speaking on behalf of the group, Engr. Yomi Oyedeko said the group is positioned to galvanise votes in 2019 for Buhari and Osinbajo's re-election through its existing structures in 20 Local Governments, 37 LCDAs and 245 wards within the state.
He said: "BOMG wishes to jointly express without fear the landmark contributions of Buhari and Osinbajo's administration that we have resolved to mobilize all registered voters in Lagos State and Nigeria to support this laudable aspiration.
"The administration since its assumption has implemented many social economic and welfare programmes to the advantage and benefits of downtrodden, one of which is social welfare and school feeding programmes. More importantly is the impact that the N10,000 trader Money loans has created in the lives of the beneficiaries."
https://newlive.vanguardngr.com/2018/10/psp-operators-stakeholders-seek-scrapping-of-visionscape/