By Festus Ahon, ASABA
All Progressives Congress, APC  House of Assembly candidate in Aniocha North constituency, Delta State, Comrade Gabriel Nwajei has vowed to win the candidate of the Peoples Democratic Party, PDP and incumbent, Mr Emeka Nwaobi in the 2019 general election.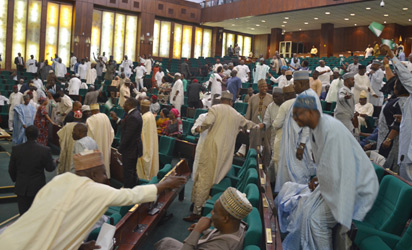 Speaking to newsmen after winning the APC primaries conducted at Issele-Uku, Nwajei said "incumbency is not a factor in winning election in the constituency, but track record of performance which Nwaobi does not have going into the 2019 election".
While  thanking APC leadership at the state and local government level, he also thanked the delegates for confidence they reposed on him thereby giving  opportunity to fly the party's flag.
Nwajei who is the national youth leader of Change Advocates of Nigeria, CAN, a political pressure group for President Muhammadu Buhari, recalled how the Minority Leader of the House, Krees Njiokwuemeni of the PDP was defeated in 2003 by Mr Victor Ochei of the then United Nigeria People's Party, UNPP.
Restructuring can address minimum wage issues – Ogidi
He said: "It is a tradition in Aniocha North that non-performing incumbents are defeated. The people of Aniocha North believe in performance, we are a peculiar set of electorate.
"If you recall, in 2003, Ochei came from a less fancied political party to defeat the then Minority Leader of the House who had the backing of all the political bigwigs in the area. History is about to repeat itself because the people are not happy with the present representation."
Noting that the APC was fully on ground and more visible than the ruling PDP in Aniocha North constituency, he said if elected, he will ensure quality representation that will bring about unprecedented development to the area.
Flood: Lawmaker asks FG, Int'l community for help
Nwajei said; "I will deliver better representation and better governance. For the past four years the people of Aniocha North constituency have been clamouring for a new and solid representation because this past four years, it is just like we don't anybody at the House.
"The people are far from the representative. Ask in the communities, they will tell you if the incumbent is representing them well or not. I am not saying that I am perfect but I will do my best to ensure that the lapses that we had this past four years will be corrected.
"And the dividends of democracy, effective representation, accountability and transparency will be delivered to my people".