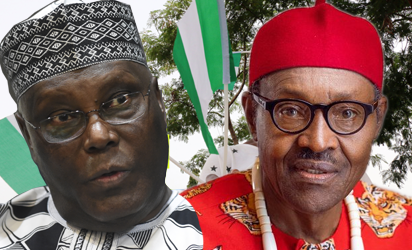 Atiku and Buhari
By Dirisu Yakubu
Presidential candidate of Peoples Democratic Party, PDP, in 2019 elections, Alhaji Atiku Abubakar, has advised President Muhammadu Buhari and All Progressives Congress, APC, to base their campaign on issues, rather than insults.
In a statement signed by spokesman of his campaign, yesterday, Atiku urged the APC to uphold the virtue "if it is not too hard" for the party to understand.
The statement said if campaigns were not conducted with care, they could hurt and divide the country.
Buhari strong to defend Nigeria against threat, Presidency tells IPOB, others
It read: "We need to restate as directed by His Excellency, Atiku Abubakar, Presidential candidate of PDP that the 2019 election should be issue based, devoid of slandering and name calling.
"We hold the view that unguarded narrative hurts the country and further divides us as a people.
"Some of the consequences of previous mismanaged campaign efforts are perhaps the reason why there is little or no internal cohesion with its attendant security challenges.
"Elections comes every four years in our country and if great effort is not taken, we could hurt the country and its people needlessly and invariably our democracy.
Atiku will take Nigeria backwards, says Olawepo-Hashim
"We have to sign up to this ideals, we can campaign without recourse to hate speech, libels, lies, undue criminalization of people and each other.
"On our part, we have signed up to running an issue-based campaign and if it is not too hard for the Muhammadu Buhari administration and the APC to understand, we call on you to do the same.
"There is greater value in doing so. Nigeria is the most populous black nation on earth and we owe it to ourselves and the black race to be above board."
Support groups protest alleged neglect
Meanwhile, the camp of the PDP presidential candidate is on the verge of imminent crisis as over 136 support groups that make up the Atiku Presidential Campaign Organisation, APCO, are threatening to abandon the former vice president ahead of the 2019 general elections.
The groups, Vanguard gathered, are worried over what seemed like an abandonment of their cause by the leadership of the campaign team, led by former governor of Ogun State, Otunba Gbenga Daniel.
However, a prominent member of APCO who spoke on condition of anonymity, said complaints by the groups to the leadership of the campaign over the spate of neglect had not been adequately addressed, warning that the patience of the various support groups would soon be exhausted.