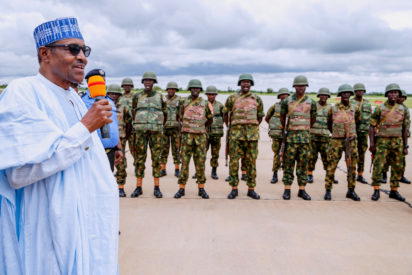 President Buhari interacting with troops deployed to curb the activities of bandits and criminals in Zamfara and neighbouring states under Operations Sharan Daji and Diran Mikiya, at Katsina Airport shortly before departing for Abuja on 25th Aug 2018
By Joseph Erunke
ABUJA-THE Nigerian Army, Monday night, said 73 hostages were rescued from the den of Boko Haram Terrorists in a midnight clearance operation in Borno State by troops of Operation Lafiya Dole.

The Director of Army Public Relations, Brigadier General Texas Chukwu,who issued a statement to this effect, also said seven Boko Haram terrorists were killed in the process that lasted several hours.
The rescue of the hostages and the killing of the insurgents, he said, we're done in two separate clearance operations in Sirdawala and Valley of Gwoza Local Government Area of Borno State.
Chukwu, in the statement, particularly said the feat was recorded by troops of 26 Task Force Brigade, deployed in Sector One of Operation Lafiya Dole.
The statement said:"The Acting General Officer Commanding (GOC) 7 Division Nigerian Army Brigadier General Abdulmalik Bulama Biu commended the troops for the feat.
"The troops of 121 Battalion under 26 Task Force Brigade in 7 Division Area of Responsibility/Sector One recorded the victory over the terrorists following a midnight clearance operation to Sirdawala in Gwoza Local Government Area on Sunday 23 September 2018, upon receipt of intelligence that Boko Haram Terrorists where hibernating around Pulka general area.
"Troops of 121 Battalion in rare display of professionalism tactically located, engaged and neutralized the terrorists hibernating within the community where it achieved the following:Neutralised 6 Boko Haram terrorists rrorists;rescued 19 persons comprised of 7 women and 12 children;rescued animals."
It added:" In a related development, the troops further proceeded on another offensive operation in the early hours of Monday 24 September 2018 to raid Boko Haram Terrorists hideout in Valley of Gwoza Local Government Area Borno State, recording huge successes as follows:Neutralised one Boko Haram terrorists;rescued 54 persons comprised of 18 women and 34 children.
"Regrettably an officer sustained injury during the operation and is receiving treatment in a military facility while all the rescued persons are being managed and documented for further handover to the appropriate agency.
"The Acting General Officer Commanding (GOC) 7 Division Nigerian Army Brigadier General Abdulmalik Bulama Biu, has commended the gallantry of the troops through the Commander 26 Task Force Brigade, Brigadier General Sanusi Dahiru. He urged the troops to maintain the aggressive posture to rout the Boko Haram Terrorists from their enclaves."