By Rotimi Fasan
THERE have in recent days been quiet talks that the Acting Director of the Department of State Services, DSS, Matthew Seiyefa, may be pushed out of office in a move to either pave way for the return of the immediate past director of the organisation, Lawal Daura, or some other individual who might be more pliant to the surreptitious activities of some close associates of President Muhammadu Buhari.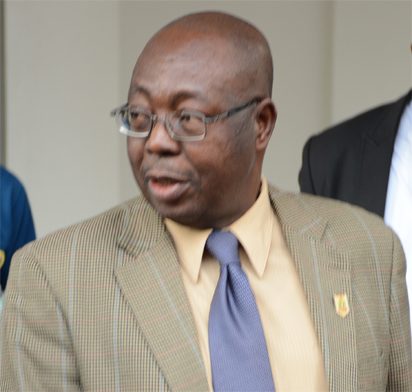 Strange as this may sound, it does not look impossible by an administration that is being run by forces beyond the control of the president. That is if we have to be charitable enough to believe that the president is not privy to this disgraceful plan that is yet to unfold fully.
The mooted talk about plans to reinstate Lawal Daura or shove away Matthew Seiyefa tells us nothing other than the fact that the congeries of unelected associates around the president known to most Nigerians as 'the cabal', a collective made up of relations of the president and other sectarian and religious cronies, are still controlling the levers of power from behind the walls of Aso Rock Villa. They are again beginning to show their evil hand very openly after what must have being for them an insufferable period of remaining in the dark for reasons that are not unconnected to a desire not to rock the boat of the president's re-election plans. I'll return to this point again.
What Nigerians should not imagine is that this government cannot reverse the decision of then Acting President, Yemi Osinbajo, sacking Daura after his failed attempt at what looked like a feeble attempt at a civilian coup. It is not the first time the administration would do such. But what makes it all the more possible if not probable is that nothing has been heard about the whereabouts of Lawal Daura since he was booted out of office.
There have been speculations here and there but nothing specific has been done to address his case in a way that would show this government led by President Buhari is unhappy with the action of the former DSS director. A man who attempted what looked like a treasonable offense but is kept in house detention where he allegedly remains while his supporters provide excuses for his action does not look like one who cannot be recalled to his former office. At worst, he might be rewarded with another appointment under the same administration that accused him of threatening democratic rule by his action of laying siege at the National Assembly.
Why has Lawal Daura not been put up for prosecution? Why is he being held in private detention when he could have been charged in the manner demanded by his unlawful action- assuming he was not under instruction? If someone says he is being debriefed or interrogated since his dismissal, can we all know for how long this would go? Why has the president remained silent about the action of his nephew that could have resulted in a summary termination of democratic rule if good judgment and quick action had not prevailed?
Would the president have been silent had this action been directed at his own office? The levity with which Daura's action has been handled tells one there is more to his case than meets the eye? If there was any doubt about this that has been dispelled by reported attempts to arm-twist Matthew Seiyefa whose reforms since Daura was removed from office are allegedly being threatened by some members of the president's inner circle led, among others, by the smooth-operating Abba Kyari, the president's Chief of Staff and Abdulrahman Dambazau, the Minister of the Interior.
Abba Kyari has no doubt been going beyond his brief. As the president's CoS he has no authority over the office of the director of DSS. His brief is limited to just those who work directly at the presidency. To seek to go beyond this is to overreach himself. But that this is happening at all is evidence of just how powerful the cabal that has its operations at the presidency is. It reflects badly on the president whose actions are often second-guessed by his subordinates where they are not openly defying his orders.
Members of the cabal are certain that they could take certain steps however above their office without fear of being reprimanded by the president. They know the president's weakness which stems partly from his overdependence on trusted relations and aides and partly from the toll age and his health have had on him. Even if Buhari disapproves of the actions of this cabal, he has only its members to rely on for the execution of those responsibilities they do not trust others not in their circle to execute.
For quite some time since President Buhari made known his ambition to seek re-election, the cabal has wisely remained silent. Even the provocative appointments the president frequently made have been halted for a while now. Clearly neither Buhari nor members of this cabal want to call attention to their nepotistic tendencies at a time Nigerians could take steps that could result in the termination of their presidency. Elections are around the corner and the cabal is being careful not to offend the Nigerian electorate. That Buhari has not been making the type of controversial appointments that he was notorious for is certainly deliberate. Once he is back comfortably in the saddle then would he resort to the ways that have defined appointments into his government in the last three years.
It is rather ironic that members of the cabal who like to throw their weight around the presidency are not doing much about the work needed to get Buhari re-elected. Nigerians need nobody to tell them these shadowy figures that strut around the corridors of power lack electoral value. They have not much to offer in terms  of votes. They would wait for the Tinubus, the Amaechis, the Oshiomoles and Akpabios, etc to do the re-election work and move in to claim the spoils when all is concluded. It is only after the hard work has been done and concluded that these power mongers would show up. Not even Nasir el Rufai has been noisily challenging Tinubu or any of those whose support would be needed to re-elect Buhari. It's been silence all through. Monkey would continue to work and Baboon would walk in to 'chop' later.
But Matthew Seiyifa did not ask to be appointed DG of DSS. He did not lobby for the position either. He was quietly doing his job and would have retired, as he is billed to next year, without anyone realising he was next in rank to Daura who was not a career officer. Let nobody stain this man's record unnecessarily.