By Femi Bolaji, Jalingo
A survey in Taraba State revealed that nine of the 16 local government areas are at risk of flooding.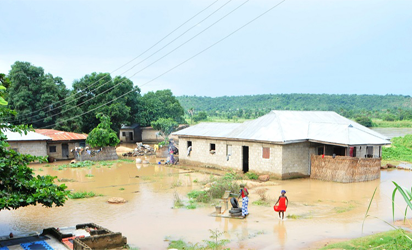 The local government areas are Lau, Karim-Lamido, Ardo-Kola, Gassol, Wukari, Ibi, Bali, Gashaka and Takum.
It was gathered that most of the communities close to River Benue, adjoining rivers and the dam constructed at Kashim Bila in the local government areas are at risk.
A pointer to the risk happened on Friday, August 17 when a downpour left hundreds of commuters stranded at Bimba in Gassol local government area of the state, after a make-shift bridge was removed to let heavy current of water resulting from the downpour flow.
Another bridge at Mutumbiyu, also in Gassol LGA, was submerged.
Some farm lands in the local government area along Jalingo- Wukari road became inaccessible.
However, the State Emergency Management Agency, SEMA, said it has identified flashpoints and communities at risk of flooding in all the nine local government areas.
According to the Permanent Secretary of SEMA, Navulga DanAbu, officials of the agency have been mobilised and are on ground in flood prone communities interfacing and sensitizing residents and stakeholders.
He said, "About nine local government areas of the state may be affected by flooding. When we got the information, a call was made to all the chairmen of the flood prone local government areas, informing them of the potential danger to communities around River Benue and adjoining rivers.
"Our team has also been going on advocacy visits to those areas having identified flashpoints, and talks are ongoing with stakeholders, opinion leaders and residents   for them to be on alert because we don't know when and what time the flood will come because we do not want to lose lives."
While commenting on plans for the evacuation of victims of the potential flood, the SEMA boss said proper arrangements had been made.
He said, "We have identified where to evacuate the people if anything happens and, this time, we wouldn't want them hanging around primary schools to disrupt academic activities.
"And, therefore, one of the hostels constructed by Dangote committee on flood disaster in 2012 has been completed and now available."
On the issue of funding, he said, "A memo is before the governor for consideration and as soon as funds are released, we will perfect our plans".
One of the major impediments to the activities of SEMA in Taraba, according to DanAbu, is the sentiment attached to ancestral lands. "Our people naturally don't want to move from one location to another.
They talk of their ancestral lands but forgetting that it is only when you are alive that you can claim lands that belong to your ancestors", he said
"We want them to understand that when there is danger, your safety should be the priority before you start talking of ancestral lands.
"We are appealing to them to deemphasize sentiments on ancestral lands when urged to relocate to a safer place."