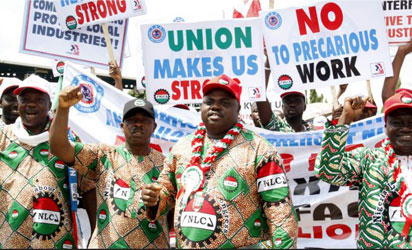 File: Labour leaders on May Day.
Uyo – Comrade Iboro Ibara, the Akwa Ibom Vice Chairman of the Nigeria Labour Congress (NLC) has described the situation of workers in the country as that of being under slavery.
Ibara said this in an interview in Uyo on Thursday while monitoring the ongoing warning strike declared by the NLC.
He said that workers in the country were angry because what they were being paid as minimum wage was not up to a living wage.
"I don't think it is a matter of compliance. Every worker in Nigeria knows that he or she is not earning a living wage. It is not a question of compliance.
"It is that workers across the country are angry. All offices are under lock and key, you cannot expect to see any worker.
https://newlive.vanguardngr.com/2018/09/2019-labour-promises-to-vote-out-leaders-owing-salaries-pensions/
"They have been angry for years, this is slavery; we do not even need to compel the workers to join the strike.
"Every worker is angrily at homes. They (workers) are looking for avenues to explode. The slavery in this country is too much.
"We are talking about living wage here, what we are calling a minimum wage is not even living wage.
"The Government should be happy that we have even condescend to a level of even accepting this minimum that cannot be called a living wage.
"So, no worker will go to work in Akwa Ibom State until we receive contrary directive from our National Headquarters," Ibara said.
When NAN visited the Federal Secretariat on Abak road, the gate shut as workers deserted the place leaving the presence of the security operatives from the Nigeria Immigration Service at the gate.
https://newlive.vanguardngr.com/2018/09/labour-enforces-strike-compliance-in-lagos/
Speaking to NAN, Comrade John Sebastian, Branch Chairman of Amalgamated Union of Public Corporation Civil Service Technical and Recreational Employees (AUPCTRE), Federal Secretariat branch, said workers had been patient for so long.
Sebastian noted that workers across country were aggrieved due to the treatment meted to them by various governments.
"We have been patient for so long. Every worker is now aggrieved, we need something to be done for workers.
"It is not only politicians that are supposed to enjoy the resources of this country whereas they are not doing anything to better the lots of the masses," Sebastian said.
NAN reports that public primary and secondary schools in the state remained closed as pupils and students who went to schools were seen returning home.
The situation was the same in financial institutions as banks in Uyo metropolis were not open. (NAN)
https://newlive.vanguardngr.com/2018/09/2-years-after-air-peace-to-resume-lagos-asaba-route-flight-oct-8/