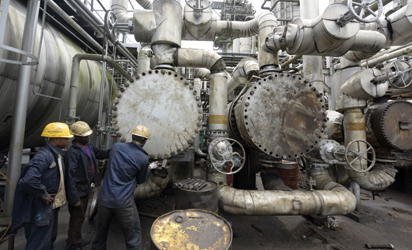 By Michael Eboh
Niger Delta youths within the operating areas of Sterling Energy Exploration Company, SEEPCO, and British Oil and Gas Limited, under the aegis of Ex-Agitators Forum, yesterday, faulted the allegations levelled against the two oil companies by the National Union of Petroleum and Natural Gas Workers, NUPENG.
The youths, in a statement by the spokesperson in Abuja, Comrade Egbaseimokumor Puloubebe, also warned NUPENG against embarking on any nationwide strike, stating that they would not fold their hands and watch the union disrupt the operations of the companies, and affect the means of livelihood of the youth in the area.
Puloubebe stated that the claims by NUPENG was not only misleading but also capable of disrupting the sustainable peace that presently enjoyed in the Niger Delta by SEEPCO.
Puloubebe noted that SEEPCO is one of the largest employers of labour in the Niger Delta, where two or more youth from each community are gainfully employed with proper remuneration and good working conditions compared to her contemporaries.
He further described NUPENG's allegations of high-handedness and connivance, levelled against security operatives, as not only misleading, but also capable of undermining the good works of the security operatives in maintaining peace and order in the water ways and their place of operations.
According to him, without the services of the joint operations of the security personnel hostilities would have returned to the affected areas.