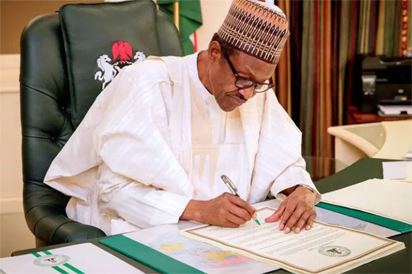 President Muhammadu Buhari on Thursday signed an Executive Order to improve his administration's fight against corruption.
By Ediri Ejoh & Comfort Asuquo
Stakeholders in Nigeria's oil and gas industry have called on the President, Muhammadu Buhari, to sign the Petroleum Industry Governance Bill, PIGB, into law.
Recall that on Thursday, May 25, 2017, the Bukola Saraki-led Senate broke the jinx by completing legislative work on the PIGB and on July 3, 2018, the bill arrived Aso Rock for President Buhari's assent.
Defending President Buhari, the Senior Special Assistant to the president on National Assembly Matters, Sen. Ita Enang, had said that the action was based on constitutional and legal considerations.
But speaking in an interview with Vanguard, Mr. Bank-Anthony Okoroafor, Managing Director, CB Geophysical Solutions Limited, said the president should give priority to the PIGB.
He said: "The PIGB will usher in the needed regulatory and institutional framework needed to position our petroleum industry. The bill will remove all uncertainties, currently discouraging investors from investing in the industry.
Okoroafor said the industry was marred with critical issues that are needed to be addressed, adding that, "the earlier the PIGB is signed, the better for the industry and the country."
In a statement sent to Vanguard, the Human Rights Writers Association of Nigeria, HURIWA, added that the continued delay of the nation's PIGB was retrogressive.