By Chimaobi Nwaiwu
NNEWI—OFFICERS and soldiers of 14 Field Engineer Regiment from the 302 Artillery Regiment (General Support) Nigerian Army Onitsha, yesterday defied a heavy downpour and cleared over ten years old blocked erosion drainage system at Park Lane GRA Onitsha, Anambra State.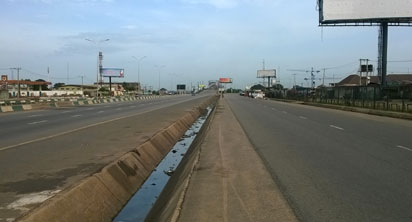 Led by the Commanding Officer of the 14 Field Engineer Regiments, Lt. Col. Mohammed Momoh, the officers and soldiers, numbering about 40, arrived the Park Lane, opposite, Shoprite Onitsha with over 40 members of the National Youth Service Corps, NYSC attached to the Onitsha military cantonment,  to clear the gutter.
However,  after arrival at Park Lane, they were joined by the Chairman of Onitsha North Local Government, Patrick Mbah, under whose L.G.A. Park Lane falls into, with his Personal Assistant Mr. Sunny Ogazi to welcome them.
Earlier, while addressing officers and soldiers of the 14 Field Engineer Regiment, in the Onitsha military cantonment, on the nature of the assignment they were going for, the Commanding Officer of Lt. Col Momoh said: "It was a disaster management exercise to curb flooding in Onitsha and its environs. As you can see, there are countless menacing activities of flooding in some parts of the country now, many communities have been sacked by flood, while many buildings have been submerged in the country by flood, we do not want that to happen in Onitsha and any part of Anambra State."
As emergency response unit of the Nigerian Army, we must not fold our arms and watch avoidable erosion threats unchecked, we must do our best to open up blocked gutter and drainage systems to allow flood pass through the gutters instead of allowing to takeover our roads and buildings.
Addressing newsmen during the exercise, Onitsha North LGA Chairman  Mbah thanked the Army and Anambra State Governor for their collaborating in ensuring good living standard for the residents of the state.