By Udeme Akpan
RECKLESS disposal of plastics has been identified as a major environmental problem in Nigeria's oil and gas- bearing areas.
Mr. Yolo Bakumor, Managing Director, Bayelsa State-based De-Rabacon, the winner of the maiden Shell Outstanding Achievement Prize in the 2018 Shell LiveWIRE Top Ten Innovators Awards, disclosed in an interview with Vanguard that the reckless disposal of plastics has culminated in the pollution of underground water.
He said: "Underground water and reservoirs are susceptible to toxins released by those plastics recklessly disposed which would eventually find their way to our homes. Land pollution – When dumped on landfills, the plastics build up hazardous chemicals that greatly affect the quality of the soil, since they are non-biodegradable they render those portions useless.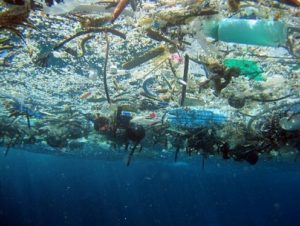 "Air pollution – Burned plastics when inhaled affect the health of those who inhale it, causing respiratory problems. It distorts the food chain since the animals that ingest them get poisoned causing problem for the larger animal that depends on them for food."
Bakumor said the company started in 2014. "Growing up, recycling was a pet project, I've  always seen the need for a cleaner and greener society, thus, looking for applications to those recycled plastics in the cheapest possible way. So upon graduation, I went into the business fully.
"De-Rabacon Plastics is a social enterprise that recycles end-consumer plastics to viable commercial products. We collect waste plastics of all kind, sort, granulate and thermoform/laminate them to packaging for cosmetics, bottles for drinks, construction materials such as paving blocks, pipe and low-grade carpets etc."
He said his involvement in plastics recycling has impacted positively on the environment, adding that, "the number of landfills has been on the decrease as more people are seeing the need to recycle and the money they could make from it.
"Drainage systems, especially around my locality, have been free of obstructions reducing cases of flooding, especially during this rainy season. People no longer incinerate their plastic waste; rather they sort out the plastics for reusing or recycling."
Bakumor who expressed appreciation to Shell for the latest award said, "It's a big deal, I'm grateful and humbled by it. It's the needed recognition to put De-Rabacon Plastics on the map, a call to work even harder and advance our business to give room for more milestones."
In a recent statement sent to Vanguard, Shell had stated: "A Nigerian plastic-recycling company has won the maiden Shell Outstanding Achievement Prize in the 2018 Shell LiveWIRE Top Ten Innovators Awards. Bayelsa State-based De-Rabacon Plastics came tops in a competition that also saw another Nigerian firm, Alternate Energy Limited, emerge as the second runner-up in the Energy Solutions category to win a $10,000 prize money."
"The two Nigerian companies are among the Top Ten Innovators named last week from among 21 entries in a contest which attracted over 11,000 voters from 102 countries."
It had quoted Mr. Igo Weli, General Manager, External Relations as stating, "This is part of the streak of successes with the Shell Nigeria Live-WIRE programme, coming a year after two of our Nigerian entrepreneurs won in the merit category at the finals in Sierra Leone in 2017."