By Dirisu Yakubu
ABUJA- The Peoples Democratic Party, PDP, has said President Muhammadu Buhari, in congratulating the All Progressives Congress ,APC, candidate in the Osun State governorship election, Adegboyega Oyetola, has shown that the Presidency is behind the electoral manipulations, outright rigging and bloodletting that marred the process.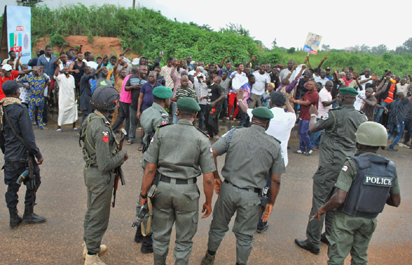 In a statement issued by the party's spokesperson, Kola Ologbondiyan on Friday, the PDP said "Nothing can be more reprehensive that while the entire world is condemning the process and the blood of the innocent that were maimed by APC thugs is yet to dry on the streets of Osun state, the Presidency and the APC are busy celebrating a stolen mandate."
The statement continued: "Is it not outrageous that Mr. President condoned the electoral manipulations, impunity and violence in the election and merely asked that those aggrieved by the unlawful acts of his party should go to court?
"Every well-meaning Nigerian and the world community expected President Buhari, as the father of the nation, whose duty it is to protect all, to condemn this wicked, mean and malevolent act orchestrated by the APC in this election, but he could not find a place in his heart to do so.
"President Buhari is aware that this election was won genuinely by the candidate of the PDP, Senator Ademola Adeleke, yet he approved the stealing of the mandate and had no soothing words for the victims of his party's violent atrocities in Osun State.
"The Buhari Presidency and the APC have in Osun election, again, demonstrated insensitivity and desperation for power, for which they have little or no value for the lives of Nigerians.