BY DAUD OLATUNJI
Residents of Sango, Ogun State watched in amazement as 83- year-old founder of Christ Apostolic Church, Ode-Ijaye Worldwide, Rev (Dr.) John Shola Ojo, engaged in traditional marriage to his 70-year-old wife, Bisi Ojo, after living together for 46 years.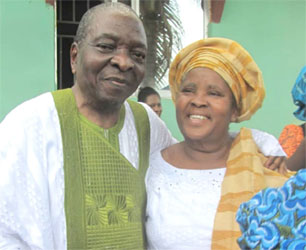 The ceremony was done like a young couple was getting married despite their age and years of being together.
The wedding ceremony, which started around 12pm on Tuesday at the wife's family compound in Fadipe area of Sango, was done just the way a traditional wedding would have been performed for the couple at a young age.
Items expected to be provided by the groom's family, such as tubers of yam, one luggage box, the holy Bible and assorted bottles of wine, among others, were seen at the event which lasted nearly three hours.
The couple carried themselves like they would have done 46 years ago.
The groom, clad in a white flowing dress, called agbada by the Yoruba, was ushered into the event venue by his old friends.
He was introduced to the family of the wife to whom he prostrated and money collected from him by the Master of Ceremony before he was allowed to sit at the podium reserved for the couple.
Minutes later, the bride was ushered in, like her groom, by the wives in her family.
She was clad in a white gown while her face was covered in veil.
Like it happens in wedding ceremonies, the family of the groom was asked to pay a certain amount before the veil could be removed from the bride's face.
After the ceremony, Sunday Vanguard had a chat with Ojo and his bride. Excerpts:
What made you wait this long before performing your traditional marriage?
Groom: I was an organist in Memorial Methodist in those days when I came from Ijesha land. I was living in the boys' quarters of one Reverend Idowu who was in charge of the church. The church had a large compound. Elizabeth Fowler Primary School hired part of the place. Holy Mary Memorial School was also occupying some part of the church premises. My wife was working at Elizabeth Fowler Primary School in those days, which means we always saw each other. I remember back then that people called her a stubborn girl because she loved playing with people. One day, I called her and asked where she came from and she told me she was from Abeokuta. I also asked her how she got to Lagos and she told me her father sent her to live with her senior brother who was working as railway senior driver in Lagos. She told me that, that brother was the breadwinner of the family. When the brother realized that she was always coming to me, he called one of the drivers working with him to marry her. But when he realized that she was not ready to leave me, he got annoyed one day and beat her for more than 8 hours. That did not, however, deter her as she was adamant in marrying me. When the brother discovered that all his effort was in vain, he took her to Kafanchan, and we lost contact for more than four years. I even heard that the brother did charm to make her forget me.
After several years, she came back to Lagos and the brother still insisted she must marry one of the railway drivers. She later ran away from home to live with me. Because the brother did not want her to marry me, he did not allow us to do traditional marriage. And he was the breadwinner of the family which means their parents will only listen to whatever he told them. That is why we couldn't do what we are doing now. I did court marriage and church marriage. I have done everything except what I am doing today because it is important.
Looking back, why do you think your brother-in-law insisted that you could not marry his sister?
Groom: I think he insisted I could not marry his sister because he wanted her to marry one of his friends. It was because of the relationship he had with those people that made him to want to give her sister's hand in marriage to one of them. Also then, I was not financially buoyant. I was an ordinary teacher and there were times those people used money to attract her; in essence, the brother believed one of those friends could take care of his sister than l would have done.
Why did you marry late?
Groom: What will I eat? Who did I have that I will go and get married? This man you are seeing had nobody at that time (crying). 99 per cent of my family members did not believe I could still be alive today. I lost my mother when I was two years old and my father was a polygamist. People told my mother not to take me to my father's house from birth and I never slept for a single day in my father's house.
Your saddest day in life
I have many sad days but I will tell you only two. There was a time when I was in the village. I went to the farm and was cutting cocoa when I mistakenly cut my leg and there was nobody around to assist me. I managed to get home with the last breath and there was nobody to ask about what happened to me because I didn't have anybody except God. I was inside the room for more than 24 hours and nobody cared if I existed.
The second time was when Queen Elizabeth wanted to come to Nigeria and I was among the students chosen to represent my school. Because I did not have anybody, I had to engage in petty jobs to raise money to buy the dress and other things for the parade. After getting everything, a day to the event, thieves came to my house and stole the dress in my room and that made me not to participate in the parade and I did not have the opportunity of seeing the Queen.
What do you think causes divorce and what's your advice for married couples?
Groom: When you get close to people who are older than you, it will assist you in your marriage. Experience sustains marriage. Other things are patience, perseverance. A man must be patient and must accept the woman he married with her disabilities because it is a 'for better for worse contract' you signed.
46 years after, how has the journey been?
Bride: There is no how a journey will be smooth all through. So, the journey has been full of happiness and sadness. Life's journey consists of hills and roads and it is a must for you to pass through, both the good and bad sides of life. All praises to God that called us to serve Him. I believe if God sent you on an errand and He is doing the work himself, everything will be easy. When we just started evangelism, it was challenging, but with God, we were able to scale through.
How do you feel that you just did your traditional marriage at this age?
Bride: I am happy and I give thanks to God because I am the sixth child of my parents and, out of all of us, I am the only one God gave this opportunity at this late hour. All my siblings did not have the opportunity of doing traditional marriage.
Many people were against your marriage to your husband. What did you see in him that made you to be adamant?
Bride: The day he was fortunate to speak with me, I can use the word fortunate because he is not the only one that had interest in me then because his best friends also wanted to date me and I had a lot of people, including the friends of my brother, but the day he told me that he did not have parents, that he had nobody to assist him, I felt for him and my father had a big farm where he planted cocoa and kolanut; I believed that   if I married him, my parents will be able to assist him. But my people insisted that I should not marry him because he was poor and he had no family. For some time, we lost contact, but because God had something for us, we met again and we got married.
Any regrets?
Bride: I have never regretted marrying him for once. This could be because He who is in me is greater than the people living in this world. When you are in the world, that is the time you experience sorrow or regret.