Osogbo – Security agents attached to polling units in Saturday's governorship election in Osun are monitoring the use of smartphones by voters.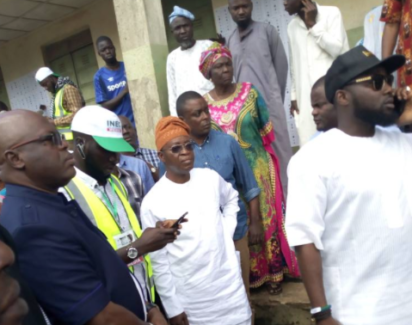 In some of the polling units visited in Ilesa and Ile-Ife, majority of the voters came to the polling units with their smartphones although security agents did not allow them to take them inside the cubicles to vote.
A security personnel, who spoke with NAN on the condition of anonymity, said the measure was to check vote-buying.
He expressed the belief that the move had so far checked the incidence of vote-buying at polling units.
Mr Jimmy George, an election observer, commended security agents for preventing voters from using their phones inside the cubicles.
George , who is the National Secretary of the National Committee of Patriots, said the action of the security agents would minimise vote-buying in the election.
Meanwhile, accreditation and voting in the election continued on a peaceful note in many polling units across the state.
At Unit 12A, Ward 05 in Ile-Ife, voters were seen on the queue peacefully with INEC ad hoc staff attending to them.
It was also observed that the card reader machines were also working perfectly at the polling unit visited.
Mr Lukman Adedini, the Social Democratic Party (SDP), agent confirmed that the election had been peaceful.
Adedini also commended INEC ad hoc staff for arriving on time.
Also at Ward 6, Remo Unit 2 in Ile-Ife, many voters were seen on the queue.
Mrs Victoria Komolafe, the Presiding Officer, who said the election had been orderly and peaceful, also commended the large turnout of voters.
Mr Olayade Abiola, the SDP party agent at the polling unit, commended INEC for the prompt arrival of materials. (NAN)