Senator Ademola Adeleke, the governorship candidate of the Peoples Democratic Party (PDP) may have already resigned himself to defeat by the candidate of the All Progressives Congress in the rerun election in the state, as he termed the election as "a coup".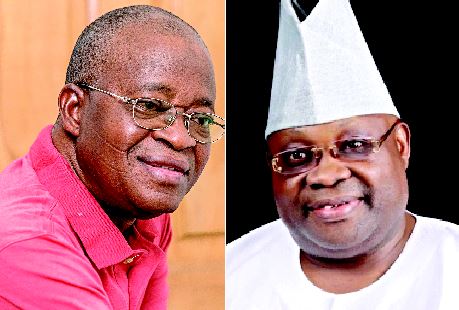 His comments ran against the grain of incidents in the state and the attempted disruption of voting by thugs of his party.
https://www.vanguardngr.com/2018/09/osun-rerun-its-impossible-to-snatch-ballot-box/
In Osogbo, some of the PDP thugs were caught by the police as they attempted to disrupt voting. Police had to fire gunshots in the air to restore some normalcy.
In Olode, Ife, the PDP polling agent failed to turn up for duty. But agents of at least five other political parties reported for the monitoring of the election.
But in a telephone conversation with Punch, Adeleke described the election as a coup.
"What is happening in Osun State now is not an election. What we have is a coup.
https://www.vanguardngr.com/2018/09/osun-saraki-moves-to-deliver-adeleke-for-pdp/
"That is what we are witnessing now. Our supporters are being harassed and are not allowed to vote at all.
"Let the whole world know that this is not the democracy, ", he told a correspondent of PUNCH.
Is this sour grapes already, even as residents of the state and Nigerians await INEC to deliver the results from the seven polling units where the rerun took place?
The PDP candidate, Adeleke went into the rerun with an advantage of 353 votes, over the APC candidate. Adeleke had 254,698 votes, while Gboyega Oyetola of the APC had 254, 345 votes.
Subscribe for latest Videos