By Dayo Johnson, Clifford Ndujihe, Gbenga Olarinoye, Joseph Erunke & Akinroye Abdulazeez
OSOGBO—AFTER testy duels in seven polling units, Alhaji Gboyega Oyetola of the All Progressives Congress, APC, had yesterday taken ascendancy in the Osun State governorship election with the slimmest of margins in the annals of governorship elections in Nigeria.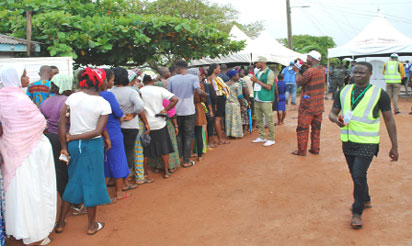 He polled 255,505 votes, which are 482 votes higher than the Peoples Democratic Party, PDP, standard bearer, Senator Ademola Adeleke, who got 255,023 votes after the compilation of figures in the seven polling units where re-run poll were held, yesterday.
Adeleke went into yesterday's election with a lead of 353 votes from last Saturday's election where he got 254,698 votes while Oyetola scored 254,345 votes. While Oyetola got 1,160 votes yesterday, Adeleke scored 325 votes.
Before now, the 2015 governorship election in Kogi where Alhaji Yahaya Bello of the APC beat Capt. Idris Wada of the PDP with 42,875 votes, and the Imo 2011 election where Owelle Rochas Okorocha of APGA edged out Chief Ikedi Ohakim of PDP with 46,369 votes were arguably, the tightest governorship elections.
Like the Osun election, the Imo and Kogi elections were decided through supplementary polls. However, unlike Osun, the incumbents lost in Imo and Kogi.
 Allegations of rigging, intimidation of voters mar re-run
The re-run poll was marred by allegations of rigging, intimidation of voters and observers, and violence, in which the PDP  claimed that its youth leader in Ife South and a pregnant woman were killed. The woman was killed for reportedly insisting that she must be allowed to exercise her voting right independently.
There was temporary breakdown of law and order at Unit 17, Alekuwodo, Osogbo, one of the polling units in Ward 5, where the re-run election was held. Armed personnel including the army were drafted to the area to put the situation under control.
Also, at Biket area, Osogbo, where the PDP secretariat is located, hundreds of people mostly youth confronted the security operatives.
The situation led to open confrontation between the two groups, disrupting the free flow of human and vehicular traffic for several minutes before it was brought under control.
Re-run result
Expectedly, the outcome of the re-run poll elicited divergent views from APC and  PDP. While the Osun APC hailed the exercise and enthused that the people of the state have spoken, PDP and its candidate kicked, rejected the result and vowed to challenge it in court.
 Osun people have spoken – APC
The ruling APC said with the results of the re-run election, the people of Osun State have spoken.
In a statement by the Director of Publicity of APC, Mr Kunle Oyatomi, the party said: "The PDP was unable to manipulate the result this time around, so they are crying foul. We have always known and have made ourselves clear before the election that the PDP had made elaborate arrangement to rig the election through the manipulation of the card readers and it was this process that made them get the votes, allocated to them in the first ballot.
"Nobody expected the PDP to even come second. Most people in Osun have the belief that it would be a straight fight between the APC and SDP. But as God would have it, Osun was saved from the vultures.
"We like Osun people to understand that the run-off votes went the way it did because the PDP was unable to manipulate the card readers this time around and fortunately the police thwarted their plot of buying and trying to use the PVCs of suspecting voters. That was why some of their leaders were arrested. So the PDP should look for other excuses.
"They attempted to win by fraud, they failed in the first round and eventually lost the re-run election.''
 PDP, Adeleke kick, reject result
Before the final result was announced, Senator Adeleke, who lamented that security agents had compromised the process, in a statement  by the spokesperson for his campaign organisation, Mr Olawale Rasheed, said  PDP supporters were harassed, intimidated and prevented from voting in some of the seven polling units and that the election was brazenly rigged.
Describing the exercise as a sham and charade, he vowed to seek legal redress in court.
The statement read: "We report to the whole world the brazen theft and daylight swindling of Osun people who were criminally denied their rights to vote and be voted for by an anti-people conspiracy among INEC, security agencies and the ruling All Progressive Congress. An unprecedented travesty of justice and the shattering of democratic values are ongoing in Osun State.
"The whole world is witnessing a charade in the name of an election, a deliberate effort at the imposition of a discredited leadership on the suffering people of Osun State through undisguised brutal force, applying all standards, the supplementary poll is a non-event as all norms of electoral process were violated.
'Journalists and election monitors are blocked from accessing many voting areas. Those who attempted gaining access are attacked by hooded thugs. PDP leaders are hounded and arrested. It was a brutal unleashing of force against unarmed election stakeholders
Also, the South West PDP, in a statement by its Zonal Secretary, Mr. Ayo Fadaka said the  re- run election was compromised mainly by the security agencies mobilized to maintain law and order.
A statement issued by the Zonal Publicity Secretary of the party in the South West, Ayo Fadaka said "We note very disappointingly that the on going election in Osun is already being compromised majorly by the Security Agencies mobilized to maintain law and order.
"It is disappointing to note that unnecessary leverage has been accorded to the APC as its thugs have unfettered movement and capabilities to perpetrate all lawlessness.
"lt is surprising that in this election, agents of PDP have been clearly disallowed from discharging their responsibilities, they were precluded from operating in Orolu and Ife South.
"In Orolu particularly, thugs have been assaulting and intimidating residents since Monday and all reports of these incidents have not been addressed by the Police.
"Absolutely sad it is to declare that the PDP Youth Leader in Ife South has been killed alongside another pregnant woman who suffered the same fate for insisting that she must be allowed to exercise her voting right independently.
"It is terrible to note that journalists and election observers have been harassed and arrested in this election by security agencies, this is absolutely disheartening.
"Therefore, we state most unequivocally that the results of this election has been predetermined and as such cannot be acceptable to us as a Party because it is not free and fair.
"We arrived at this current destination in Osun because INEC permitted sharp practices to rob the PDP of about 4,387 votes while allocating another unearned 3,487 votes to APC, this is indeed a sad period in our national life.
In like manner, the Osun PDP in a statement by its Chairman, Soji Adagunodo described the supplementary election as the most brazen assault on democracy and biggest robbery ever witnessed in the history of the state, adding that "the open robbery perpetrated by  APC aided by security personnel will be resisted by the party."
"It is regrettable that election in seven polling units could not be freely and fairly concluded by the Independent National Electoral Commission. We reject any returns of results from this sham and call on the INEC authorities in Abuja to direct that the so called supplementary election result collation be put on hold now," he said.
NBA observers arrested at Orolu
Three members of the Nigerian Bar Association, NBA, observer group were arrested by policemen at Ifon on their way to monitor the re-run election in some of the polling units in Orolu Local Council.
One of the lawyers, Mrs Abibat Oriekun said that policemen stopped the car she and her colleagues were travelling in and arrested them even after they showed police their INEC accreditation pass.
Oriekun, who said she had spent 23 years at the bar said the policemen shouted at them.
She said they met one commissioner of police, Ali Janga, who she claimed asked them to be taken to the INEC office. ''Luckily, we saw Festus Okoye, who came to collect materials and he identified us as observers and we were released," she said.
16 persons arrested with fake INEC materials – Police
On a day that some residents of Ifon town in Orolu Local Council claimed that armed thugs loyal to one of the leading parties forcefully collected their Permanent Voter Cards (PVCs)  and prevented them from voting, the Police said they arrested 16 persons with fake electoral materials.
According to a statement by the Police Public Relations Officer, Osun State command, DSP Folasade Odoro, "the Nigeria Police team on stop and search duties at Orolu intercepted vehicles with 16 persons on board in possession of customized INEC tags, face cap and jackets with the inscription of "INEC Osun 2018 Election Observer" and PDP membership cards. The suspects are using the items to have easy access to restricted areas meant for personnel with due accreditation."
There was no election in Osun but robbery — Fani- Kayode
Former Minister of Aviation, Chief Femi Fani-Kayode, said: "There was no election in Osun but daylight robbery,'' warning that President Muhammadu Buhari, Senator Bola Tinubu, Governor Rauf Aregbesola and other leaders of APC were playing with "fire" over the re-run election.
His words: ''It was violence all through. It was daylight robbery. It was a violation of the dignity, rights and sovereignty of the people of Osun State and Yorubaland. As a people, we have been down this road before in 1964,1983 and 1993 and there were severe consequences. Those that have done this today have refused to learn from the lessons of history and I have little doubt that sooner or later there will once again be grave consequences and they will reap what they have sown."
INEC, APC 'll make 1983 electoral crisis child's play if they act like this in 2019 – CUPP
The Coalition of United Political Parties, CUPP, condemned the conduct of Osun State governorship re-run election, saying it failed to meet the minimum standard expected of any election.
CUPP, in a statement by its spokesman,Ikenga Imo Ugochinyere, alleged that both INEC, APC and security agencies collaborated to thwart the will of Osun people, saying INEC and APC would be "making 1983 electoral crisis a child's play if they act like this in 2019."
The coalition said it was worried that the "Independent National Electoral Commission, INEC and the Nigerian security forces have turned themselves into organs of the All Progressive Congress, APC.
It said: "The same INEC that claimed to have cancelled results of some polling units due to disruption watched with collaborative silence as security forces, comprising the police, civil defence, Federal Road Safety Corps, National Drug Law Enforcement Agency, Nigeria Immigration Service, Nigeria Customs Service and the Nigerian Army comfortably turned themselves into joint militant wing of the vote-stealing APC."
The re-run result
Ife North, Oyere
APC -126
PDP – 002
Ife South, Olode
APC –  283
PDP –  015
Aluti Erin
APC – 172
PDP – 021
Ifon Orolu, Kajola
APC –  111
PDP –  003
Gbogbo
APC – 041
PDP – 064
Idiya
APC – 128
PDP – 055
Osogbo
APC. 299
PDP – 165.