By Sam Eyoboka
IMMEDIATE past National President of the Christian Association of Nigeria, CAN, Pastor Ayodele Oritsejafor and President, Lagos Central Baptist Conference, Dr. Kehinde Babarinde have underscored the importance for youths to imbibe the skills and competencies they need to build business relations.
Speaking at two separate occasions, the twosome opined that acquisition of such skills are desirable for youths to sharpen their potentials and achieve their business goals because of skills' relevance to entrepreneurial and career development.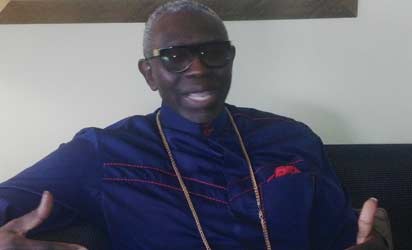 Addressing a group of youngsters, Action Teenagers for Christ, at a mini trade fair at the Word of Life Bible Church headquarters in Warri, during a month long Let God Arise Revival programme, Pastor Oritsejafor exp-ressed delight that the children were able to go into handcrafts, soap and perfume making and others which they were showcasing at the exhibition.
"These kids can even pay their school fees through these products on display. School is good but Nigeria today, needs skill acquisition to prepare the young ones for a secured future, not lazy people who just sit down doing nothing and waiting for white collar jobs.
"Education is so important but also skills; being able to have something doing, so that tomorrow you can pay your fees and when you finish school and you don't have job immediately, you will find something to develop. You can build on this and become anything," he counseled the teens.
Declaring the teen exhibition open, the lion-hearted Pentecostal preacher urged the young lads and their parents who had on parade, female hand bags, shoes, branded Eagle perfumes, insenticides, liquid soaps, confection-eries and numerous other handcrafts, Pastor Oritsejafor opined that Nigeria is developing fast.
"Some of the things Nigerians are importing into the nation, are not different from what are on parade here today, it's just the packaging and I know with time these kids could be-come world beaters after they learn new methods on how to package things better," he stated.
Picking some of the items on parade, he urged members of the church to en-courage the young lads to buy their products and put a smile on the faces of the teens who have developed such skills to help the society.
Speaking to a cross section of youths drawn form several institutions, chur-ches and students fellowships across Lagos State during a youth empower-ment seminar on developing, Babarin-de stated that there are basic eleme-nts of the model of business relation-ship that should be imbibed by youths.
The Relationship and business advisor postulated the LEARN model of busi-ness relationship, explaining that learn-ing is a fundamental tool as business relationship can be developed through various listening types such as informational listening, interactive listening and critical listening.
Babarinde advised the youths to take up their faiths seriously in order to achieve their set goals in life, noting that Empathy as one of the skills is de-sirable to develop business relation-ship as value and trust are essential in dealing with people.
He added that reliability is the projector of business and as a result, youths should eschew mediocrity and become reliable and polite in their commit-ments, challenging them to possess strong negotiating skills which will further enable them to gain advantage in their professional and business pursuits.
Babarinde who bemoaned the rate at which youths live without concrete goals, urged them to embrace goal-centered networking in view of the present economic situation in the country. He advised youths to develop goals in joining group of like-minded individuals, engage in meaningful and proactive social media relationship amongst others.