By Joseph Erunke
ABUJA-FORMOST educationist and founder of Brickhall School, Abuja, Senator Joy Emodi, has faulted current Nigeria's education curriculum, saying it lacks the necessary ingredients required in the 21st Century.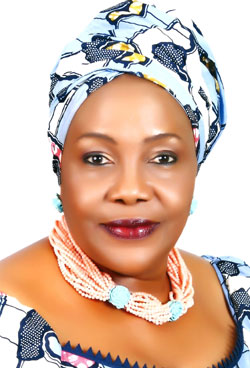 Emodi insisted that what the federal government was parading at the moment as education curriculum can never drive the country towards achieving what it should achieve as a country in the 21st century.
The former senator, who represented Anambra North Senatorial District between 2005 and 2010, spoke Sunday at an event planned by Brickhall School to honour Mrs Uchenna Onwamaegbu-Ugwu, founder of Edufun Technik STEM Center, following the winning of the 2018 Technovation World Pitch in California, USA, by the five secondary schoolgirls she mentored in her company.
The event was to herald a partnership between Brickhall and Mrs Uchenna Onwamaegbu-Ugwu towards mentoring children and students of the school for the innovation which recorded the feat at the Technovation 2018 World Pitch Summit in Silicon Valley, USA.
She advised the Federal Government through the Federal Ministry of Education to look towards designing the curriculum that will be technology-centred unlike what the country had at the moment.
Besides, the former Chairman, Senate Committee on Education said government must also establish education research centres that will be properly funded and manned, noting that it was the only way Nigeria can make it.
She said:The Federal Ministry of Education should first of all know the problem of what we want and then design a the curriculum that will be technology-centred unlike what we have now.
"What we have now can never drive this country towards achieving what we should achieve as a country in the 21st century.
"And again, we have to establish education research centres that will be properly funded and manned. That's is the only way we can make it.
"As it is today, we don't have a seriously-minded and funded research institutes in this country, we don't. And the curriculum in respect of technology is still very weak. It is still not really technically driven, they do mostly theories."
Emodi said Brickhall School, in cognizance of the challenge, had developed its curriculum
to "accommodate what the government wants and what will push our children further."
"Here at the Brickhall School, honestly, we restructured our curriculum to accommodate of course what the government wants and again, what will push our children further hence the invitation for a partnership with Mrs Onwamaegbu-Ugwu, "she added.
Speaking on the essence of hosting Mrs Uchenna Onwamaegbu-Ugwu, Senator Joy Emodi said the event was to honour and thank her for the feat in the technovation summit.
" That was a very great feat and the person that pioneered, mentored and did everything that came to fruition where Anambra State in particular and Nigeria in general made history in the world is Mrs Uchenna Onwamaegbu-Ugwu
"So I felt that we must celebrate her because that was a good one for Nigeria. Nigeria should not only be known for negative things. And of course,as a founder of a school, somebody who believes in education,who is interested in pushing our children towards not only 21st century but also above, we contacted her. Brickhall School entered into a partnership agreement with her so that she will come and perform the same feat with our children here at the Brickhall School, "she explained.
On her part, Mr Uchenna Onwuamaegbu-Ugwu, said she was prepared to take her initiative to all corners of the country and called on governments at all levels to support entrepreneurs with ideas no matter how small for the country to develop faster, saying such was obtainable in advance world.
"I am prepared to go beyond one community but it's unfortunate that here, government does not support entrepreneurs. In the US, government gives support to entrepreneurs. When you have ideas no matter how small it is, the government supports and collaborate with you to boost that idea. That's what I want governments here to be doing, "she said.
She added:" We have to take it to the next level, these are five girls that won but we have 100 girls, 1000 or 10,000 girls out there that need everybody's support. So we must make sure that we don't stop at winning at five but other girls around. We cannot continue rejoicing over five girls when we have 20,000 waiting for us.
"Again, I also want an inclusive programme. We also need to keep our boys ahead because one thing is that we may not be to understand the potentials that our children have until we give them the access and the command chance. My mission right now is to expand, give access, give opportunities."
According to her:"These children, before this programme, had not used the laptop before, they were using the Internet for the first time and they were determined. They opened the Internet for the first time, they browse the Internet for the first time so they learnt from scratch."
She further added:"Coming first is easy but sustaining it is what matters, and that's why we are here to meet schools and other people that may be interested and who will sustain it for us.
"Even if we don't win tomorrow, lives that will be touched will not forget it in ten years time and the children we will teach today will remember that there's a career path we need to play.
"Some of our children wake up in the morning and when they want to write JAMB today, that's when they will realize the course they want to do and they will start calling their uncles and saying 'please what course are you suggesting that I should go for?
" This happens because they are not aware that they were supposed to prepare for their careers during primary and secondary schools.
" But our programme teaches career development as well, that's direction-where do you want to go, who do you want to be, how do you want your life to be and so on.I am opened for collaboration, I'm opened for impact."