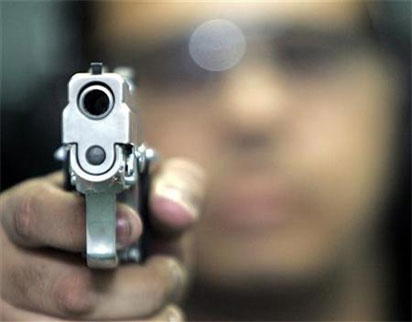 Shooting outside US Spy agency headquarters
By Dayo Johnson
Akure—A notorious armed robber in Ondo state, Ahmed Idris, yesterday said he decided to repent and surrender to security operatives following pressure and prayers from his mother.
Ahmed, who was paraded alongside three others by the state police command in Akure, said his mother's prayers worked as his mind had been touched and that he is a changed person.
The suspect told newsmen that he was now a repentant armed robber and would never return to his evil ways.
According to him " on September 6 at about 330pm l left where I was at Ajaokuta local government in Kogi State, travelled to Ondo State and went to report myself at a Military checkpoint in lfon.
"l have participated in many armed robbery incidents in Kogi and Ondo states. Other members of the gang are in Ondo state.
Addressing newsmen, the police image maker, Femi Joseph, said the suspect had confessed his involvement in many armed robbery cases in the state.
Joseph said the suspect confirmed that he decided to turn a new leaf following pressure from his mother.
According to the police spokesperson" The suspect during interrogation said that his former gang members had been threatening to kill him if he did not rescind his decision to quit the illicit trade.
"ln the course of the investigation, two members of his gang were arrested namely Sunday Alamboso and Moses Igenegba.
Joseph added that one Yakubu Ibrahim, who was also a member of the gang, incited youths against the police during his arrest.
The kingpin of the gang, according to Joseph whose name was given as Michael, had absconded immediately his boys were apprehended.
Michael was said to have led members of the gang to rob a senator in Kogi State where some motorcycles to be given out as empowerment to indigent members of his constituencies were carted away.