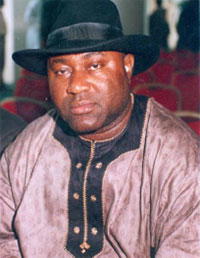 Anthony Nted, President-General MWUN
By Godfrey Bivbere & Sharon Obiakor
The Maritime Workers Union of Nigeria, MWUN has threatened to shut down operations of the Brawal Shipping (Nigeria) Limited over non-payment of entitlement of its retrenched members years after.
An official of the dockworkers branch of the MWUN who spoke with  Vanguard Maritime Report  on the condition of anonymity, said its branch in Brawal brought the case of its member retrenched by the company in the last 30 months and have not gotten their entitlement, to the Union.
The source said efforts are being made to discuss with the management of Brawal, who seem not to be forthcoming.
According to the union official, "We are planning to bring in the union to shut down the terminal for good, if possible shut down maritime house and prevent MTN from entering there until they pay the money".
One of the affected staff said he was retrenched about a year ago but the management has refused to pay him. The affected staff explained that some retrenched colleagues had to go cap in hand to beg for their entitlement and such people were paid in bits to the extent that they could not do anything useful with what they got.
The source further noted that one Engr. Ugwuoke who was also affected had to take the company to court before he was paid when the court ruled in his favour.
Responding to these allegations, Head of Finance and Administration of Brawal, confirmed to  Vanguard Maritime Report, that there are some retrenched staff that have not been paid but assured that they would start getting their money in about two weeks time.
Three weeks after however,  Vanguard Maritime Report  gathered that the affected staff are yet to received their money and the management have refused to pay those in Lagos because they are not making profit.
According to him, "It is true that we have some of them we still owe but I can tell you that we have paid some of them, some in full and some not in full.
"You know that most companies are struggling; we know what the economy is like. Seeing challenges here and there, and the new circumstances that force management to ask them to leave for some time, these circumstances has not changed but in the middle of it we are still struggling to take care of them and keep the company afloat as well.
"In the next two weeks we should be able to pay some of them off completely, we are looking at it and we are making arrangements to pay them off," he had stated.