By Juliet Ebirim
A star-studded Yoruba movie on behavioral disorder 'Bipolar' (Amodi) was recently premiered at the Ozone Cinemas, Yaba, Lagos.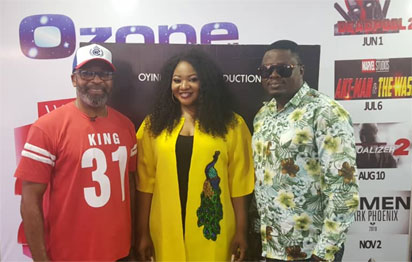 Directed by Muyiwa Ademola, the movie features Yemi Solade, Jide Kosoko, Lanre Hassan, Jaiye Kuti, Bimbo Oshin, Allwell Ademola, Wale Akorede, Sotayo, Lateef Adedimeji and Bukola Fagbuyi.
Written and produced by actress, Oyin Laz, the movie was shot in the United States of America and Nigeria.
She said the advocacy-based movie was aimed at addressing the causes of bipolar disorder and to draw the attention of the society to bipolar, which is usually being overlooked.
Speaking on the movie, Laz said: "A lot of people have been asking if I'm bipolar. No I am not, but I decided to look around me, I have a lot of people around me suffering from Bipolar which was exactly what inspired me."
"At first, when I gave the story to Muyiwa Ademola, who is the director, he was like this is Nigeria I don't think they are going to accept it. I told him I don't care if they accept it or not I just want to put it out there, I want people to see it. So I just took the risk."
Also speaking at the premiere,Yemi Solade said, "We have individuals, most especially our political leaders who can be so erratic in their behaviour. These are basically the symptoms but a lot of people don't want to be bothered about it."
'Bipolar' tells the story of a lady who lives abroad but finds herself back in Nigeria due to her temper issues with her boyfriend, Bolanle Ninalowo. She meets with a doctor who was able to walk the journey with her by helping her manage her anger. Co-incidentally, she has a twin sister somewhere in the village that also has the same temper issue. With an infusion of suspense and comedy, causes and treatment of the disorder was addressed in the movie.
Distributed by Blue Pictures, the movie was released into the cinemas on August 31.