By Henry Boyo
The Presidents of African countries converged in Beijing last week, to attend the 2018 Summit of the Forum on China-Africa Cooperation (FOCAC); President Muhammadu Buhari's delegation included at least four state governors and seven federal ministers.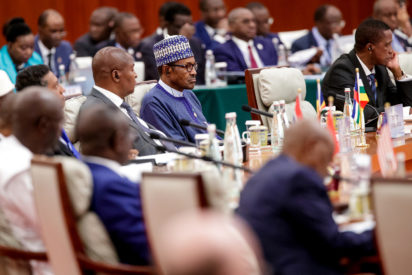 The high point of the forum was the 'promise' by Chinese President, Xi Jinping, to provide fresh 'assistance' of $60bn to finance infrastructure in Africa; this amount, according to Xi Jinping, would comprise $15bn of grants, interest free and concessional loans, plus another $20bn of new credit lines; furthermore, $10bn would be provided as special fund for development financing, while, $5bn would similarly be advanced for financing imports from Africa; Chinese companies would in addition, invest at least $10bn in Africa within 3 years.
According to Xi Jinping, these 'intervention' funds will not be applied to so-called VANITY projects, however, some African countries would be exempt from payment of outstanding interest on loans which fell due by June 2018.
Admittedly, the $60bn Chinese 'assistance', is well above the annual budget of any African nation; however, the amount may still seem grossly inadequate when shared between over 1.2 billion people in 54 countries, in a 3-5 year cycle. Notably, however, $60bn is probably much more than Africa's former colonial overlords provided for poverty alleviation in recent decades, even when such poverty level was probably induced by an inequitable trade balance which has antecedents in the slave trade era, when a human being could be exchanged for a vanity mirror and bottles of strong alcoholic beverages.
The Chinese President however assured that "China does not interfere in Africa's internal affairs and does not impose its own will on Africa; what we value is the sharing of development experience and the support we can offer to Africa's national rejuvenation and prosperity".
Africans may also be reassured by Xi Jinping's admonition to officials of Chinese firms that "they had to respect local people and the environment where they operated". This is clearly in contrast to the superior posturing of early colonial powers in their transactions with people from the "Dark Continent." Nevertheless, Jinping's admonition is timely as local media reports regularly decry the inhuman treatment of African workers by Chinese employers.
Notwithstanding, the fear of China's successful trade incursions into Africa, probably compelled the unprecedented chain visits this year, of (now former) US Secretary of State, Rex Tillerson, President Emmanuel Macron of France, Theresa May of UK, and Chancellor Angela Merkel of Germany to selected African countries, including Nigeria, to promote trade, economic and cultural relationships.
However, despite the seemingly "charitable" concessionary loans to Africa, some critics still advise that African Leaders should clearly look their gift horse in the mouth, so as not to be sold the dummy of a Trojan horse by the Chinese Government. It is rather curious however, that rather than co-ordinate a transnational, common African position, the 'umbrella' African Union's participation, in discussions with their Chinese hosts seems to have been unusually peripheral.
Nonetheless, Garba Shehu, President Buhari's  Media and Publicity Assistant, reported in a press statement from Beijing, that China had executed infrastructure projects worth over $5bn across Nigeria since 2015, while Buhari also dismissed insinuations that Chinese loans to developing countries could constitute a debt trap; conversely, PMB insisted that the "vital infrastructure projects financed by China, actually, synchronise with Nigeria's Economic Recovery and Growth Plan; besides, PMB further assured that "some of the loans are self liquidating, while he was also confident that, Nigeria is able to repay 'these' loans as and when due".
However, an updated report, culled, lately, from China Daily.com suggest, that as at June 2017, "China had already invested, a total of US $22bn on physical infrastructure development projects, while another US$23bn worth of projects are ongoing in Nigeria; these projects include according to the report, the 312km rail route between Ibadan-Lagos, and 300km Lagos-Benin route, the 615km high speed Lagos-Abuja line, and the 675km Port Harcourt–Maiduguri line. Furthermore, Nigeria's Aviation sector has reportedly also benefitted from a $500m loan from Chinese Exim bank to construct new terminals at all four of Nigeria's International Airports. Other projects include $478m for a 300mw solar power plant in Niger State, and a $1bn Abuja-Ibadan-Lagos Greenfield Expressway.
There is reportedly, also, a subsisting US$6bn loan commitment which apparently overlaps with the $2.5bn swap deal designed to facilitate settlement of Nigeria/China trade, by removing dollar transactions and directly trading, instead in Yuan, so as to further increase exports from China, even when Nigeria may have spent over $14bn in 2017 for Chinese Exports, when value of Nigeria's exports to China, may still remain below $3bn.
Regrettably, neither the cost of these loans, nor the tenor and other terms are so far public; besides, some of these loans, were never formally appropriated, and they were therefore not subject to Legislative scrutiny. In this regard, we may, recall, Vice President Osinbajo's recent advice for thorough evaluation before endorsing the AfCFTA, as most treaties signed by Nigeria were, in his opinion, never subjected to thorough appraisal to guarantee that Nigeria's interests were protected.
Arguably, employment and poverty level may still not improve significantly throughout Africa, as projects related to the $60bn package will be largely constructed with materials and prefab modules from China, with Chinese workers, as bricklayers and other artisans, whose visa applications to Nigeria will now be authorized within 48hrs, under a new protocol. It is, however, not clear if the same visa protocol is also applicable to Nigerians traveling to China.
Although, PMB appealed for reduced import duty on Nigeria's agricultural exports to China, so as to increase our domestic output, nonetheless, we should be wary of 'trade capture' of our agricultural and SME subsectors, so that we do not lose control over our food supply chain and our industrial and commercial subsectors to deep pocket Chinese businesses, heavily funded by Chinese banks which are currently being established in Nigeria. Although President Xi Jinping has proclaimed a policy of co-operation rather than imperial control, it is fair to say that Chinese businesses are not charity foundations, nor 'angels' in increasingly competitive export markets.
Clearly, however, if Africa's centuries old role, as producer of primary commodities persists despite these Chinese interventions, incomes and wages will regrettably remain uncompetitive between Nigerians and workers from more industrialised economies. Consequently, our goal must be to industrially process to add value to our primary products before export.
Regrettably, however, the participation of Nigeria's industrial subsector in adding value to our primary produce will remain modest, so long as businesses have to pay over above 10% interest rate to borrow.