By Victor Ahiuma-Young
Comrade Anthony Emmanuel Nted was born on October 1, 1960, the  day Nigeria got her independence from Britain. Comrade Tony, as he is fondly called, is the Chairman of the Maritime Workers Union of Nigeria, MWUN, Advisory Council, and the immediate President-General of the union. In this interview, Nted speaks, among other things, on his sharing of birthday with Nigeria, his growing up and leadership in MWUN. Excerpts: 

October 1 child
I feel privileged and special for God to have chosen me among the Nigerians out of millions to be born on October 1, 1960, the very day Nigeria got her independence from Britain. Right from that day, I have continued to receive special favour from God and man. Despite the challenges of my childhood, God has always been there to see me through. That is why I remain grateful. I see myself as the real Nigeria. Every time Nigeria marks her independence, I see myself marking my birthday. Anywhere I go, I try as much as possible to be a good ambassador of Nigeria, especially outside the country. Some of my friends, within and outside Nigeria, call me Mr. Nigeria. It has been something of great joy. On personal note, every October 1, I mark my birthday with prayers and thanksgiving in my house. That is what I have resolved with my family. We have been doing that for some time now. Friends come to join us to pray and thank God for keeping us alive. During the prayers and thanksgiving, I give a brief sermon.   The prayers revolve around Nigeria and my family and we do it before midday. It lasts for about two hours after which little refreshment is served. Some friends use the occasion to visit and felicitate with me. The occasion this year falls on a Monday, we will hold the prayers and thanksgiving as usual. We will pray to God to help us solve the challenges facing us a country especially ahead of the 2019 general elections.
Growing up
I was born in Agwut-Obolo in Andoni Local Government Area of Rivers State but l virtually grew up in Delta State. My father was a fisherman. At a very tender age, he relocated to Delta State where he started the fishing business. He later took us to Warri where we started our primary education. After our primary education, we went to the Institute of Continuing Education in Warri. From there, things became very hard for us and, because of that, I started working at a very tender age. My father didn't want us to further our education, but to join him in the fishing business.
Apapa Wharf road ready in September — NPA MD
But my brother and I refused and decided to struggle to further our education. I joined the union. Then it was the Dockworkers Union. We did not have what is now known as Maritime Workers Union of Nigeria then. It was the Trade Union Amendment Act of 1996 that led to the formation of the Maritime Workers Union that we have today. It is from the Dockworkers Union that I became the Ven Moore workers' representative. As I was doing that, I was, at the same time, going to school. From there l was elected the District Chairman of the Delta Port of Warri Dockworkers' Branch. Some years later, I was elected Zonal Vice President of Warri Zone and then President of the Dockworkers Branch of the Maritime Workers Union. After I served my two terms, at the union's national delegates' conference in Benin City, Edo State in 2009, I was elected President – General Maritime in March.
Leadership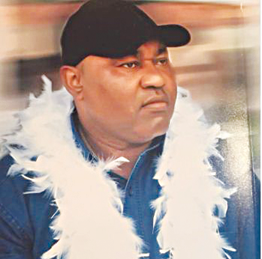 I experienced almost every challenge from the shop floor because, as a dockworker, I carried rice, fertilizers and so on so on my head. I experienced hardship in the dock. So, when I became a leader, I tried to make the industry a better place. For instance, knowing that fatigue, and others related ill health are common in the maritime industry because of the nature of the job   in Warri, I set up what we called 'Emergency Chemist or Labour Hall'.   When workers fall sick, they go there for medical attention.
Bringing sanity
When I became President-General, there was indiscipline, hooliganism, pilfering, vandalism of containers, violence, among other vices. We decided to reform workers, especially members of the union. If we did not do what we did, the industry would not be a better place today. So, we put God first and started doing what we called 'Dockers Restoration' weekly.   We would gather members of the union together to preach to them. We taught them moral and ethical values because some parents brought up their children without values. We made them to understand that stealing is not acceptable to God and that anybody who breaks into container or steals in the port will be suspended from the industry. And if you fight on duty, you will also be suspended. We also taught them that insubordination was wrong and would also attract severe sanction. There was a day I was preaching. I advised all those who wore charms or fetish things to remove them otherwise their lives would be miserable.   Many of them removed the charms and fetish objects they wore and threw them away. They said it was God that inspired me to preach in such a manner. That was how some of them came to know God. When you commit an offence, we discipline you irrespective of who you are. For instance, in Warri, people were vandalising and stealing, in what were then called 'Wharf Rats'. We cautioned them to stop. Some stopped but others did not. When we caught some of them, we brought them to the 'Labour Hall', called their wives and children to witness as we flogged them. It forced many of them to be reformed which eventually led to the reduction of vandalism of containers and theft in the ports.
Collecting bargaining
When we came onboard, the conditions of service were very poor. Some terminal operators were paying N10, 000 while others were paying N5, 000. We decided to see how we could work out a minimum standard or conditions of service for dockworkers and others that did not have. Few months after, we were able to arrive at a certain level. We tried to improve on it year after year to get better conditions of service for workers till some of the operators started paying up to N250,000 per month depending on the position of the worker. In fact, if not for the global recession, we would have been talking about N300, 000 to N400, 000 per month.
Training,  retraining 
I believe training and retraining are very important parts of education. I remember when we took about 60 persons to Dubai, two persons prostrated at the airport, crying and praying, "God keep on blessing Tony that has brought us here". One of them said he had not gone to Abuja before by air but now he had flown an international flight. It was amazing. At all the training, I told them that what we were doing was not just training them, but that they must go back to train others and add value to the system. Through training and retraining, work ethics improved; vandalism, fighting and all other negative behaviours became things of the past. We trained over 6, 000 workers locally and abroad. We also brought the culture of saving for the rainy days into the system. And part of the training was what we called 'Life after Service'. This made dockworkers to have a rethink about life. Some of them started buying buses, some built houses, while some did other things. I made them to understand that 'if you do not have a place to call your own, when you retire from service, you will never live a normal life. So, the best thing to do is for you to secure your future'. It became a healthy competition for workers to talk about what they have achieved and save to the extent that everybody wanted to keep something for the future when they leave the industry.