Germany on Thursday won the race to host the 2024 European Championship as UEFA backed a bid seen as safer than a rival proposal from Turkey.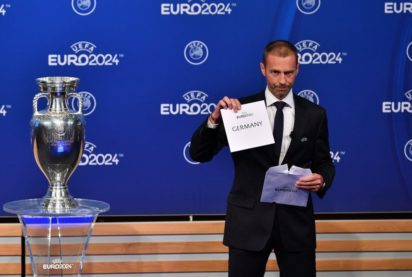 Politics, national unity and respect for human rights in Turkey emerged as key themes in the campaign to host Europe's premier international football event.
In the end the result was not close: Germany, which had been the favourite, won the vote among UEFA's executive committee members by a margin of 12-4, with one abstention.
UEFA considered that the German bid already had everything in place to host a successful event — from stadiums to infrastructure and hotels.
"We will do our utmost to live up to our expectations," German Football Association (DFB) president Reinhard Grindel said after the winner was announced at UEFA's lakeside Swiss headquarters.
– 'Football can unify' –
Germany hosted the World Cup in 2006, but has never staged the Euro as a unified country: West Germany hosted the competition in 1988, a year before the Berlin Wall came down.
Thursday's win also offers a boost to German football after a disastrous 2018 World Cup, when the country failed to qualify for the last 16 — after winning the tournament in 2014.
European football's governing body has also said it wants to make as much money as possible from the 2024 tournament and Germany was considered the better financial bet.
The German bid, which sees matches spread over 10 stadiums, has the capacity to sell 2.78 million tickets — nearly 300,000 more than Turkey.
But Germany did not just pitch itself as a steady hand that can host a lucrative tournament without a hitch — it has also voiced hope that a tournament on its soil could build societal unity.
After the World Cup debacle, German football was engulfed in an ugly ordeal by Arsenal star Mesut Ozil's retirement from international football.
Ozil, born in Germany to Turkish parents, accused the DFB of racism after he was targeted with xenophobic comments for being photographed with President Recep Tayyip Erdogan before the World Cup.
By coincidence, the Turkish leader arrived in Germany on Thursday for a three-day state visit, including talks with Chancellor Angela Merkel.
German foreign minister Heiko Maas said the 2024 tournament "will be an opportunity to show what we stand for in Germany: openness to the world and tolerance, freedom and respect.
"Together, we have to make the European Championship a tournament for all Europeans," he added.
Germany coach Joachim Loew called the win "exceptional."
"You could feel the tension," he said. "We will do everything now to deliver an awesome European championship."
– Erdogan's shadow –
The polarising Turkish president had desperately wanted to deliver a first major sporting event to his football-mad nation.
Istanbul notably lost the race to host the 2020 Olympics to the Japanese capital Tokyo and Turkey also narrowly missed the chance of hosting Euro 2016 which went to France.
Erdogan's government has spent heavily on football infrastructure including gleaming new stadiums and pitched itself as "a land bridging continents."
Ultimately, it proved to be not enough and Erdogan's increasingly authoritarian reputation likely did not help his cause.
Rights groups have decried the unprecedented crackdown and thousands of arrests that followed a failed 2016 coup.
This was the first Euro bidding process that included specific human rights requirements.
In an ominous sign for Turkey ahead of the vote, UEFA's evaluation report noted that "the lack of action plan in the area of human rights is a matter of concern."
The Euro 2024 result may well be a bitter personal defeat for Erdogan, who has sought to build a reputation as a man who can deliver.
Turkish Sports Minister Muharrem Kasapoglu called the outcome "sad" and implied that the loser in the bidding was not Turkey but the tournament itself, which would miss out on the experience of taking place in Turkey.
"In this sense we have lost nothing as a country. Euro 2024 has lost out from the point of view of our experience of hospitality," he said.
AFP
Subscribe for latest Videos