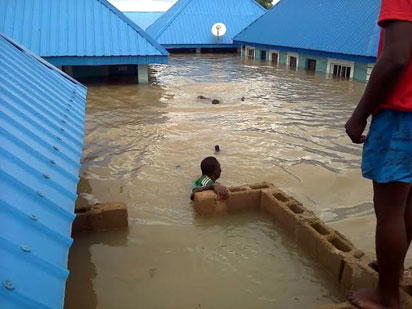 Underwater in Jigawa.
…327,052 persons displaced, 9,276 houses destroyed
…19 riverine communities submerged in Delta
By Emma Amaize, Clifford Ndujihe, Jimitota, Onoyume, Festus Ahon, Ochuko Akuopha, Perez Brisibe & Chancel Bomadi Sunday
IN SPITE of palliative measures, death toll from rampaging flood across the country has risen to 242, according to Vanguard checks and information from government officials.
At the weekend, National Emergency Management Agency, NEMA, said the number of deaths from ongoing waves of flood in 12 states of the country was 101.
Between January and July 31, this year, Vanguard's checks showed that no fewer than 141 lives were lost to rainstorm, wind storm and flood disasters across the country with at least 19,369 persons displaced on account of their 5,732 houses and sources of livelihood among others destroyed. So far, no fewer than 327,052 persons have been displaced with about 9,276 houses destroyed.
Vanguard's checks showed that so far, the rainstorm and flood disaster in 2018 were the worst in the last six years after the 2012 that killed 363 people, displaced 2.1 million people and affected seven million people in 30 of the 36 states of the country.
The economic losses in 2012 were put at N2.5 trillion. The seriousness of the 2012 flooding, referred to as the most harmful in the last 40 years, was attributed to a combination of two events: very heavy local rainfall and the release of excess water from the Lagdo Dam in neighbouring Republic of Cameroon.
Affected states
So far, floods have ravaged 34 states this year. The states are Kebbi, Cross River, Enugu, Kwara, Lagos, Imo, Kogi, Ondo, Jigawa, Taraba, Rivers, Katsina, Gombe, Imo, Bauchi, Akwa Ibom, Ogun, Anambra, Niger, Katsina, Kwara, Adamawa, Edo, Kano, Benue, Delta, Yobe, Zamfara, Nasarawa, Ebonyi, Enugu, Nasarawa, Bayelsa and Osun.
NEMA Director-General, Mustapha Maihaja, weekend, lamented the number of casualties despite efforts of the agency in conjunction with other agencies of government, and parastatals in the affected states.
Maihaja warned that the flood this year might grow higher than what was experienced in 2012 because in 2012, the flood level rose to 12.84 metres on September 29, and as of September 21, 2018 the level had reached 11.21metres
With heavy rainfall still being experienced, he feared that if the rains continued, the level might get to 12.84 metres before September 29 with dire consequences.
Last week, Nigeria's Hydrological Services Agency, NIHSA, warned communities in Kebbi, Niger, Kwara, Kogi, Anambra, Delta and Bayelsa states that increasing high river levels could cause major flooding. At least three major dams have started releasing water as high flow from the upper catchment of the Niger basin continues to move downstream to Nigeria.
19 communities submerged in Delta
The flood, yesterday, continued to wreak havoc. At least 19 communities in the riverine areas of Ughelli South, Bomadi and Burutu local government areas of Delta State have been submerged.
Residents in the affected communities have resorted to sleeping in canoes owing to their inability to access their houses, which have been overtaken by the rising tide from the rivers in the affected areas.
The Foundation for Human Rights and Anti-Corruption Crusaders, FHRACC, in a statement, weekend, appealed to the Delta State government, NEMA and other interventionist agencies to come to the aid of the communities.
FHRACC National president, Alaowei Cleric, noted that the flood in the areas had wreaked untold havoc on the affected communities. He said: "The reports we are hearing are very pathetic as most of the communities affected have been submerged by the raging flood. It sounds so miserable that in some of these communities, people slept in their canoes because their houses have been overtaken by flood."
The Polobubo community in Warri North Local Government Area of Delta state where over 30,000 residents have been displaced by flood, yesterday, decried the failure of the state government to lead Vice President Yemi Osinbajo to the area to assess the flood situation.
The community in a statement by National President Polobubo (Tsekelewu) Group of communities, Mr Ebilate Mac-Yoroki, said given the devastating damage by flood in their communities, they had expected the state government to also lead the Vice President to the area.
The statement further thanked Governor Ifeanyi Okowa for the five million naira released for relief materials, and called for more assistance.
Declare state of emergency in flood ravaged communities —Tuodolo
Disturbed by the effects of the rampaging flood, a House of Representatives aspirant in Patani/Bomadi Constituency in Delta State, Dr Felix Tuodolo, yesterday, called on the Federal Government to urgently declare a state of emergency in riverine Ijaw communities affected by the ravaging flood.
Tuodolo made the call during a visit to some affected communities in the constituency.
He said: "The Federal Government should as a matter of urgency send relief materials, including foodstuff, medical equipment and staff to affected communities. Federal Government should also find a lasting solution to the perennial menace of flood in our communities by constructing shore protection and modern medical facilities, which are lacking in our communities."
Delta sets up 6 IDPs camps
In response, the Delta State Government has set up six Internally Displaced Persons, IDPs camps to cater for those sacked from their homes by the ravaging flood.
The State Commissioner for Information, Mr Patrick Ukah, who spoke to newsmen after the State Executive Council, SEC, meeting in Asaba, urged those in flood-prone areas to move out to avoid loss of lives.
He said the state Government has setup Flood Management Committee to handle the welfare of the IDPs, adding that the Flood Management Committee, which is headed by the Commissioner for Bureau for Special Duties, has the Commissioners for Health, Environment, Information, Local Government Affairs, Women Affairs, Community and Social Development and the Chairmen of about 16 local government areas identified to be affected by the flood as members.
He named the local government areas to include; Aniocha South, Bomadi, Burutu, Warri South, Warri North, Warri South West, Patani, Ughelli South and Isoko North,  Isoko South, Udu, Okpe, Oshimili South, Oshimili North, Ndokwa East and Ndokwa West.
Ukah said the committee had commenced work towards achieving the purpose for which it was established, disclosing that the IDP camps are located at Ogbe-Afor Primary School, Asaba, Oshimili South, Ewulu Grammar School, Ewulu, Aniocha South and Utagba-Ogbe Technical College Kwale, Ndokwa West.
Others according to him, are in Emede Grammar School Emede, Isoko South, Omorka Primary School, Illah, Oshimili North and Alaka Grammar School, Ozoro, Isoko North, saying that the people of Tuomo in Burutu and Tsekelewu in Warri North have been relocated to higher ground and relief materials sent to them.