By Onochie Anibeze
Was Ibrahim Magu put on the spot Wednesday when he met some journalists in Lagos?
Perhaps, but it all ended in a friendly atmosphere and the man left the Ikoyi conference room of the Economic and Financial Crimes Commission possibly with a clearer perception of what Nigerians think of his commission.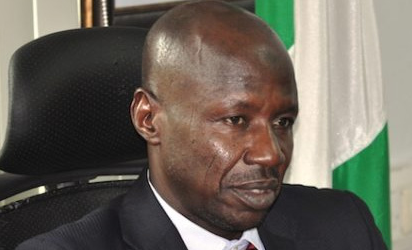 In his usual manner, Magu exhibited so much confidence when he started his narrative on the mission to ferret out corrupt people whose activities have run Nigeria down economically. He assured that he would remain focused in the fight against corruption and pleaded with Nigerians to join hands in a collective effort to rid Nigeria of the menace.
He made a passionate appeal to the media and insisted that the war against corruption would not be successful without the support of the media. His preliminary remarks appeared to be courting the media.
"More than ever before, we are convinced that the media remains strategic for the future success of the EFCC and the fight against corruption in our country," he said, adding "this understanding underscores my decision to meet with you this morning to appreciate you and exchange ideas on the way forward in the fight against corruption in Nigeria."
Everybody knows how passionate Magu has been in the fight against corruption but the body he heads appears to be selective in their efforts. How come people in the ruling party are never investigated? How come many people under investigation are defecting to the ruling party to find a safe haven?
Why are political office holders in the Buhari administration never investigated and prosecuted in spite of some many glaring cases of corruption?
Some ministers have been openly accused of corruption but the EFCC has not dealt with anyone to prove the fight against corruption is total and not selective? What with ministers who award contracts to themselves using proxies? Some collect the estacodes of aides they list their names for trips which the aides never make?
What with the freezing of the account of Akwa Ibom the day former Governor Godswill Akpabio defected to the ruling APC? Even more, what was the specific role of Mr. Okoi Obono-Obla, the special assistant to the president in negotiating Akpabio's defection to the APC given that he was the first to announce that Akpabio would defect to the APC on social media?
The accounts of Benue State were also frozen after Governor Samuel Ortom left the ruling party to the opposition, PDP? Has Magu become the face of APC or the anti-corruption czar people expect him to be?
These were issues that bogged the minds of the journalists as they  met with Magu last Wednesday.
The questions were apparently sparked by Magu's earlier injunction when he said:
"I am not here to lecture you on anti-corruption; rather, I have come with an open mind to listen to you, to know what we are getting right and areas where we need to improve. I will be taking notes."
"It will be naïve for anyone to expect the fight against corruption to be smooth; you should expect resistance, which is expressed in various guises. With the General Election fast approaching, the resistance has assumed even frightening dimensions with political motives imputed to most of our activities."
Good points. However, the journalists wanted him to clear the points that they raised over the seeming bias of the commission.
Magu's response on that issue was at best ambiguous to the journalists. They were not getting the answers they wanted. To them, the man was not sincere in his answers. His answers did not correlate with what many knew of the EFCC. And they bluntly told him. Tension built up during the session. He was not going to achieve anything if he believed the journalists would buy everything he said.
He was not addressing rookies. And they told him so. He initiated the interaction and needed to convince the senior journalists that he meant well and was not what many perceived him to be. Magu saw reason to calm down although still firm. He has always been fearless. People who are close to him can vouch for his sincerity even as many circumstances suggest otherwise of his commission. Top people in government are used to meeting sycophants who rarely tell them the truth. If Magu, all these years thought the majority of Nigerians appreciated him he was made to know that only members of the ruling party and their sympathisers felt for him in spite of his doggedness.
"I swear in the name of God that we would not spare anybody who engages in corrupt practices no matter his political or religious affiliation. I swear and I mean it," he reacted in a manner that revealed some compassion. Before this, he had said that his commission and the media have been anointed to fight corruption and no one should renege. That was engaging and was noted.
"We are dealing with very big corrupt cases. Somebody was talking about millions of dollars and I'm telling you that we are talking about billions of dollars. People are wicked. What you have heard all these years about corruption is only about ten percent of what was stolen or misappropriated. How can Nigeria develop this way? I swear there's no agenda to protect or shield anybody from prosecution and defection would not save any politician from prosecution. Only the courts can stop cases or set free any accused person facing prosecution, not us," Magus assured. It later got more interactive than the question and answer session that didn't help the clarity of sensitive matters.
Magu appeared to be baring his heart. People could perceive him differently as he maintained that he remained undaunted in the job of fighting corruption in Nigeria. Earlier, he had said:
"These days, it has become fashionable for anyone being investigated for corruption by the commission to scream political persecution. Corrupt officials of state governments are pleading immunities not ascribed to them by the constitution. Some governors have also extended the frontiers of their constitutional immunities by claiming that anti-corruption agencies cannot even investigate them! Sadly, some of our friends in the media help amplify these narratives and thereby diverting attention from real issues.
"The times we are in call for vigilance, especially by the media as the watchdog of society. As I have stated in various fora, the EFCC is apolitical and will not knock on your door, if you have not violated the law. The media owes Nigerians a duty not to allow the corrupt to deploy their ill-gotten riches to corner the machinery of government. Such folly was not injurious to our national well being in the past and will not profit us in the future.
"The media should not lend their platforms to helping the cause of the corrupt that are shading crocodile tears. We must all do what is right for our country, which is ensuring that those who steal our common patrimony are brought to justice."
He then quickly read out some of their achievements:
"Regardless of the distractions and irritations by the corrupt, I am happy to report that we are making progress. Over the past three years, the Commission under my leadership has consistently recorded improvements in the areas of prosecution of persons for corruption and recovery of stolen assets. So far this year, we have had the honor of sending two former governors to jail for 14 years each. It has never happened before! As I speak with you, the Commission has recorded over 158 convictions. At this rate, I am confident that we will surpass the record of 189 convictions achieved in 2017.
In terms of assets recovery, the figures from January to August 2018 stood at  One Hundred and Six Billion, Five Hundred and Sixteen Million, Two Hundred and Twenty-two Thousand, three hundred and Eighty-three Naira, Sixty-eight Kobo (N106,516,222,383.68), one Million, Six Hundred and thirty-five Thousand, Nine Hundred and Twenty-five Dollar, Eighty-one Cent ($1,635,925.81), Six Hundred and Twenty-nine thousand, One Hundred and Ninety-three Pounds, 65 pence (GBP 629,193.65) and twenty-five Thousand Thousand, Five hundred and Seventy-five EURO (EURO 25,575).Remarkable as this feat is, we are not resting on our oars. We believe there is still a lot to be done."
Truly, he was right. But he should lead the way. The end of the session was friendly and if there was anything Magu took away, it was that he needed to convince Nigerians that the fight against corruption was not selective.
His antecedents before now portrayed him as a no-nonsense officer whose integrity and competence informed his appointment as acting chairman of EFCC. Magu has said so much about his fairness. His actions should speak louder than his remarks even as there are many who believe in him and know that he is working hard.