By Dayo Johnson Osogbo
Osun Election:THE European Union EU Friday said it hoped that the Osun governorship election would be a model for the 2019 general elections.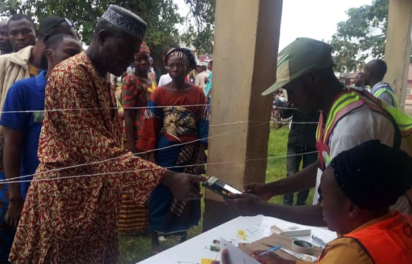 Its Ambassador to Nigeria, Mr Ketil Karlsen stated this in Iragbiji, Osun State while monitoring the poll.
He expressed hope that the votes of the people of Osun would be allowed to count in the election.
Karlsen while lauding the Osun voters as being peaceful and orderly, he equally commended INEC "for the manner it planned the exercise.
"We have been observing all morning; we are a team of 55 people, with 28 observers from around eight European countries and so far, everything looks good.
"I commend INEC so much because it's like they have learnt from previous elections. And that is exactly what we want to see, for the people to vote for who they want democratically.
"The security situation is also commendable, everywhere is peaceful, very calm. It seems large number of people are coming out to vote.
" This is a good development for democracy, to decide who determines your well-being. We hope this will serve as an inspiration for the 2019 elections."
Karlsen encouraged the people of the state not to sell their votes explained that "vote-buying was as big an offence as election rigging.
He said that "They should resist all temptations to sell their votes. And we hope their votes will count because that's the essence of democracy – to select the leader with the best solutions," End