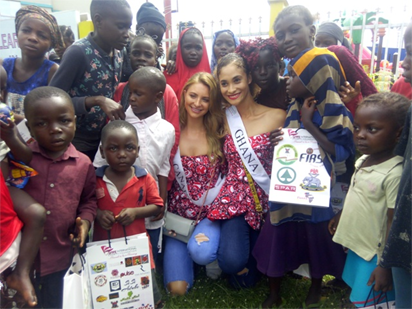 Beauty Queens at a Charity Event organised by the Aurora International Charity Foundation, Lagos, to mark the 2018 International Charity Day
Lagos – Some visiting foreign beauty queens on Thursday urged Nigerians to engage in more acts of charity to help alleviate poverty among the populace.
According to them, such acts of charity will help attain the United Nations (UN) Agenda on Sustainable Development for the eradication of poverty 2030.

The beauty queens from Canada, USA, Ghana, Italy and India, spoke at a charity event in Lagos.
The event was organised by the Aurora International Charity Foundation to mark the annual International Charity Day celebrated every Sept. 5.
Shaan Suhas Kumar, 2017 Miss Earth, India, said: "The International Charity Day is to raise awareness and have a common platform for privileged people to give back to the community.
"Creating a platform to reach out to the needy will build a global community that will sustain development in all spheres of life."
Kumar urged more people to participate in acts of charity by voluntarily giving their time to make people and the society better.
"I have personally worked in promoting education, gender equality and environmental sustainability for the past half-decade and it has been a wonderful experience for me," she said.
Also, Andreia Gibau, 2017 Miss Earth, U.S.A, told NAN that charity instilled compassion and empathy in people.
"It gives hope to the needy because we live in a world where not everyone has the same opportunity.
"I have never been to Nigeria before and being here is incredible. It is nice seeing a different country, getting into someone else's culture, trying out their food and learning about their lifestyles.
"So, it is good to take time to help someone in need which is a start to describing what empathy and compassion is all about.
"Compassion is what makes people to love each other at the end of the day and forget about their differences and join hands together in unity," Gibau said.
Miss Rebecca Knott, a model representing Ghana, said that it was amazing and exciting to be in Nigeria for the first time.
According to her, coming to Nigeria has helped to dispel all the negative things she had heard about Nigeria as she had met with wonderful Nigerians.
Speaking with NAN, Ms Tomi Salami, the Founder, Aurora International Charity Foundation, said that she was compassionate about helping the less-privileged in the society.
She told NAN that fostering peace and unity in the society through humanitarian efforts was a huge passion of hers.
Salami, who was 2012 Miss Tourism Nigeria, urged international organisations, corporate bodies and individuals to engage in charitable work in their respective communities to help make the world a better place. (NAN)