GOVERNOR—NYESOM  Wike of Rivers State,  has said that the so-called partnership between the Economic and Financial Crimes Commission, EFCC and the Independent National Electoral Commission, INEC, to monitor campaign finances ahead of 2019 elections was a witch-hunt targeted at the opposition.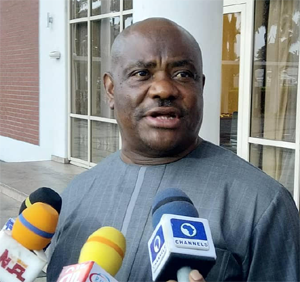 Speaking on Channels Television's Sunrise Daily on Thursday, Governor Wike described the partnership as political deception.
He said: "EFCC working with INEC to investigate campaign finances is merely a smokescreen.  It is targeted at the opposition party.  When have you heard that the EFCC would come up to say,  as regards the ruling party, funds came from the government.  I will not be carried away by the so-called EFCC investigation.
"They want to investigate funds when it has to do with the opposition states only. Take for example, EFCC said the Peoples Democratic Party, PDP, spent money during the 2015 elections.  Has EFCC investigated those states that were All Progressives Congress,  APC, such as  Rivers State at that time that funded part of their election.  Who is deceiving who? EFCC is only working to witch-hunt the opposition. "
The governor regretted that since 2015, the APC-led Federal Government has been unable to complete the Port Harcourt International Airport.
He said, "When you look at the  whole thing, you see the hatred; how this government does not like the people of Rivers State."
On the 2019 elections, Governor Wike said, "Through the Port Harcourt State Constituency 3 bye-election, they revealed to us what they planned for 2019. They don't want election.  They want to use the security to rig."