By Msgr Gabriel Osu
As a young man, I was always fond of watching our political leaders make promises, especially during election campaigns. Even as an adult, I observe that not much has changed. It is still the same culture of promises failed.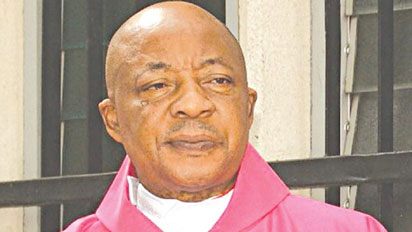 A typical campaign rally is very interesting to behold. Venue is a large expanse of land flowing with party faithful and rented crowd for the purpose of adding some credibility to the whole show. There is usually a heavy presence of law enforcement agents positioned at strategic locations.
Close to a high, well decorated elevated platform is a popular musician hired to thrill the crowd to frenzy. Decked in colourful but flowing agbada and babariga attires, the politicians soon take time to climb the stage one-by-one, chanting party slogans and mesmerizing the crowd with their rhetoric. Many of them are truly gifted orators who can compete with the best of actors on stage. They tell their followers what they want to hear: free education for all; free healthcare for every citizen; uninterrupted electricity; thriving industries; employment for all. They promise to even build houses for the masses on planet Mars. All they ask of you in exchange is your vote.
Now, in a democracy, like the type we practice, there is really nothing wrong with anyone or a group of people aspiring for public offices in a legitimate manner. It is the norm in most leading economies of the world. But our own case as a nation is very peculiar. Why? Very few of our public officers fulfil their campaign when they get to power. Indeed, our politicians are best good at making empty promises and taking care of their private and family needs at the detriment of the masses that voted them into power. If you doubt me, take another look at the history of our political landscape over the years and tell me if we have truly advanced in any of the areas they often hammer on during their campaigns. Do we now have housing for all? Are our healthcares better? Are there thriving job opportunities for our teeming graduates? When are we likely to get to the promised land? I doubt if it will happen in our generation.
Some may ask why are things this way? Could it be that most of our politicians are ill-prepared or ignorant of the expectations from a public officer? Or, like someone once opined, could it be that they are wired with a different type of gene once they clinch political positions such that they lose touch with the yearnings of the masses? Now that we are getting ready for another election season, the political climate is getting charged with all forms of nocturnal meetings, promises, alignments and realignments. As usual they will come up with all forms of promises to lure the electorates. The latest craze is the buying of votes. We saw it recently during the Ekiti election when agents of the two leading political parties openly doled out cash for electoral votes. The implication of this is horrendous for our democracy. We must not allow this to continue. The onus lies with the electorates and the civil societies to stand up against this sort of illegality in our polity. They must cry out and insist that the right thing is done to protect our hard-earned democracy. They must realize that left for the politicians alone, the rot can go on, so long as their individual and collective interests are protected. We must wake up and do the right thing for the interest of our country.
*Monsignor Osu is the Director of Social Communications at the Catholic Archdiocese of Lagos.