Five Coaches from Europe and America are expected to train no fewer than 100 selected coaches from across the country with majority from Lagos State at a football Coaching Clinic in Lagos.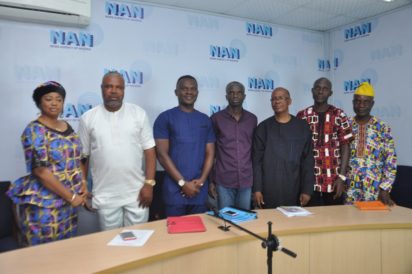 The Chief Executive Officer (CEO) of Yagazie Foundation, Chinedu Ezirim, made the disclosure when he led a delegation of the NGO on a visit to the News Agency of Nigeria (NAN) office in Lagos on Sunday.
In the company of Kennedy are, Dominon Hotspur FC CEO, Emmanuel Udeogu, and the proprietor of Bethel Global International FC, Nathaniel Olagunju and other football enthusiasts and footballers.
Yagazie is a sports outfit that seeks to promote grassroots sports and football in particular with the aim of getting the best out of Nigeria's local talents.
NAN reports that the proposed coaching clinic, expected to take place from Oct. 13, is put together by Yagazie Foundation in partnerships with the Lagos State Football Association (LSFA) and the Lagos State Football Coaches Association.
The convener of the project and the CEO of Yagazie Foundation said that the clinic would have in attendance three FIFA A-Licensed coaches from Europe and two coaches from America.
"We are expecting top three Danish coaches, René B. Lindharth who has works as a youth academy club, Naesby BK for U-15 and 17 boys and girls.
"There will also be Thomsen K. Erling from Denmark and Jensen A. Birger, a youth developing programme instructor responsible for training youth players from Denmark for the national team.
"The coaches from America are Pitts G. Taylor and Chris C. Chapman Pitts is from the Space Coast Soccer Club that has about 2,000 youth players from ages 5-19 and also holds USSF National D License.
"Chris on the other hand is a FYSA youth coach and also holds the U.S. Club National Youth Coaching License; he has previously been the head coach at Ohio High School in the U.S.,'' he said.
On the essence of the coaching clinic, Ezirim said that it aimed at developing local coaches to meet up with FIFA standards.
"What we have in mind is to develop our local Nigerian coaches in order to meet up with the FIFA standards so that they can give our upcoming footballers the best training.
"We want to build a quality development football coaching reputation and programme and train our coaches on ways to be competent in the understanding of their responsibilities.
"We want the project to be a pilot programme for Nigerian youths by encouraging them to participate in sports, healthy life style, eschew crime and cultism. We believe that sport is a panacea to crime.
"We also want to provide opportunity for the development of grassroots football by organising youth competitions, scouting programmes and world class education for the youth who engage in football,'' he said.
Yagazie's vision is to help fight poverty in Nigeria and encourage the education of the Nigerian child, engage them in sports and vocational activities so that they will stay healthy, informed and avoid crime
Its core objective as an NGO is to help protect our environment and social lifestyles through sports and education. (NAN)