By Yemi Olus
The 2018 Athletics season will officially come to an end with the IAAF Continental Cup holding in Ostrava, Czech Republic, on September 8 and 9. The Continental Cup which holds every four years, will see athletes from all over the world, competing under four regions – Africa, Asia-Pacific, Europe and the Americas.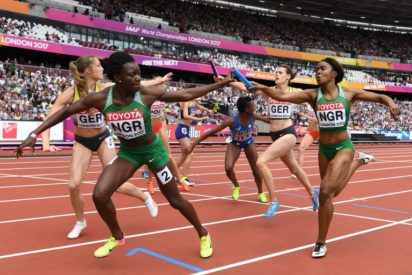 Each continent will be represented by two athletes in individual events, and one team in the three relay events – the men and women's 4x100m, and the mixed 4x400m relays.
At the end of the African Senior Athletics Championships held in Asaba, Nigeria, from August 1 to 5, the Confederation of African Athletics (CAA) released a list of 77 athletes to represent the continent in Ostrava. South Africa had 20 slots on the team, while Nigeria followed with 16 athletes, and then Kenya third with nine athletes.
Morocco has six athletes, while Egypt and Ethiopia both have four athletes, Botswana has three, and two each from Cote d'Ivoire, Burkina Faso, Tunisia and Algeria. Cameroon, Ghana, Guinea Bissau, Burundi, Swaziland, Uganda and Djibouti each have one athlete each on the team.
The current format of the Continental Cup began with the 2010 edition in Split, Croatia, operates a system whereby male and female teams from each continent are merged to garner points for their continent.
Africa finished 3rd overall in the past two editions of the Continental Cup, only ahead of the Asia-Pacific team both times. Team Americas won overall at the 2010 edition with 422.5 points, Europe was 2nd with 417 points, and Africa 3rd with 293 points. Four years later in Marrakech, Europe dominated the competition with 447.5 points to finish ahead of Americas (390), Africa (339) and Asia-Pacific (290.5).
Although the outcome of some of the events are already quite predictable, Ostrava 2018 is going to be a keenly contested affair, mainly because a lot of events are for the taking by the continent most prepared for the opportunities at hand.
Team Europe is expected to dominate events like the men's 200m (Ramil Guliyev), men and women's Hammer throw (Wojciech Nowicki and Anita Wlodarczyk), women's High Jump (Mariya Lasitskene), women's Discus (Sandra Perkovic), as well as the men's Javelin, where Olympic Champion – Germany's Thomas Rohler, and newly-crowned European Champion Jakub Vadlejch, come as favourites.
Team Asia/Pacific will be banking on the second ever fastest man in the 400m Hurdles, Abderrahman Samba of Qatar who has remained undefeated in the event this year. They can also count on Qatar's Abdalelah Haroun and Bahrain's Salwa Eid Naser in the men and women's 400m respectively; China's Lijiao Gong in the women's Shot Put, and Bahraini Birhanu Balew in the men's 3000m.
Team Americas will be the ones to beat in the men's 100m (Noah Lyles), women's 200m (Shaunae-Miller Uibo and Shericka Jackson), 100m Hurdles (Kendra Harrison), 400m Hurdles (Shamier Little), and men and women's Triple Jump (Chris Taylor and Caterine Ibarguen).
Thankfully, Team Africa also have their strongholds: the men and women's 800m, the men's 1500m, the men and women's 3000m Steeplechase and the women's 3000m among other events. According to IAAF's preview of the men's 800m in Ostrava, "If Africa doesn't win the men's 800m, there will be some serious questions asked."
Kenya's Emmanuel Korir and Botswana's Nijel Amos are ranked Nos. 1 and 2 respectively on the world rankings in the men's 800m. It is the exact scenario in the women's event where Caster Semenya of South Africa and Burundi's Francine Niyonsaba also top the world rankings.
The continent also has reigning World and Commonwealth Games Champion in the men's 1500m, Elijah Managoi from Kenya, and then the powerful duo of Conseslus Kipruto (reigning Olympic, World and Commonwealth Games Champion), and Soufiane El Bakkali (World No.1) in the men's 3000m Steeplechase. Of course World Record holder in the women's 3000m Steeplechase, Beatrice Chepkoech of Kenya, will be the woman to beat, while Hellen Obiri will be a major asset for Africa in the women's 3000m.
That said, many events are for the taking. Consider for instance the women's 100m where Africa's Marie Josee Ta Lou and Europe's Dina Asher-Smith will go head-to-head. Both ladies won the sprint double at their respective continental championships, and are also joint holders of the world's leading time in the 100m – 10.85secs. This race can go either way.
The men's Long Jump will also witness a battle of superiority from Africa's Ruswahl Samaai (8.45m), Americas' Jeff Henderson (8.44m) and Asia/Pacific's Jianan Wang (8.47m). In the women's event, Ese Brume of Team Africa (6.82m) will go against Europe's duo of Shara Proctor (6.91m) and Malaika Mihambo (6.99m), and Americas Christabel Nettey (6.92m).
Even though all three relays are open, one wonders why Emmanuel Korir wasn't listed for Africa in the mixed 4x400m, seeing that Botswana's Nijel Amos was listed for the race. The Kenyan ran a scorching anchor leg that gifted his nation with the Gold medal at last month's African Championships, and clocked a Personal Best (PB) of 44.21secs in the 400m earlier in the season.
Imagine the kind of havoc a team comprising of Baboloki Thebe, Emmanuel Korir, Caster Semenya and Christine Botlogetswe or Yinka Ajayi could wreck on their rivals.
In all, Team Africa has what it takes to rule the world. All the best to them.