…Signs $340.74m ICT loan deal
By Johnbosco Agbakwuru
ABUJA—PRESIDENT Muhammadu Buhari has appealed to Chinese government to facilitate the speedy completion of  Mambilla power  project in Taraba State.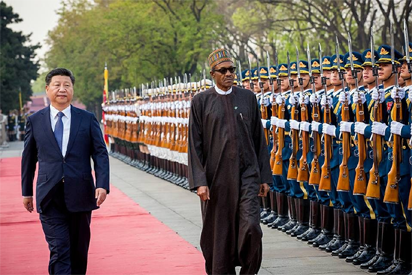 Buhari made the appeal, yesterday, in Beijing, China, while signing the bilateral agreement between himself and President Xi Jinping on the sideline of the 74th Summit of the Forum on China-Africa Cooperation, FOCAC, in Beijing.
Speaking during the ceremony, the President commended the Chinese government for its support for the development of infrastructure in the country, adding that with the reviewed bilateral cooperation between Nigeria and China, majority of citizens from both countries stood to benefit in terms of  improvement­  in their living conditions.
Buhari also commended President Xi for successfully hosting the FOCAC summit, which he said had brought together African leaders and business entrepreneurs for a win-win dialogue.
He said:  "I will like to start by congratulating your excellency and indeed the Chinese government for hosting a very successful forum on China Africa Cooperation, FOCAC, for the past two days."
A copy of an agreement signed between Nigeria and China for the ICT sector read:  "The Chinese government agrees that the Export-Import Bank o­ f China (the creditor) provides for the ­ government of the federal republic of Ni­ geria (the creditor) Represented by the ­ federal ministry of finance of Nigeria w­ ith a concessional loan (herein referred­  to as "the loan") of Renminbi Two Billi­ on.
"¥2,300 ,000,000 shall be utilised to implement the National Information and Communication Technology Infrstructure Backbone Phase II Project. The interest subsidised for the loan shall be paid directly to the Export-Import Bank of China by the Chinese government."
President Buhari also met with the Chinese Premier Li Keqiang who expressed happiness with the Nigerian government's willingness for a stronger partnership.
He noted that as the largest economy in Africa, Nigeria has a viable market that is good for the kind cooperation with China.
"I am very happy to see you again. Nigeria's very important country in Africa with the highest population in the continent. There has been a steady growth of our political relationship and our practical cooperation has also been growing from strength to strength.
"Several years ago, I paid a visit to Nigeria and I was deeply impressed by the ­ tremendous potentials of your market and­  your strong desire for closer cooperati­ on with China. Iam confident that your v­ isit this time will lend new impetus to o­ ur bilateral relationship to deliver ben­ efits to both sides." Li added.