A group called '2019 Delta Restoration Group', Wednesday warned All Progressives Congress, APC , not to field a candidate from the north to contest against the incumbent governor Ifeanyi Okwa, not as it equally listed the dangers the party would likely face should it insist on picking someone from the north.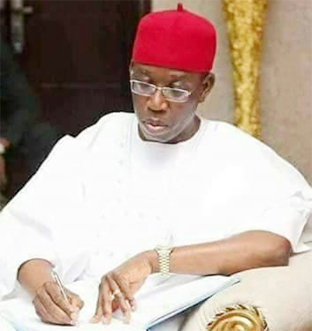 In a statement signed by Andrew Ossai Eke, the group opined, "We wish to draw the attention of All Progressives Congress, APC, to the impending political doom, it might create for itself if it makes the grievous error of fielding anyone from Delta North as its Governorship candidate against the incumbent, Senator Ifeanyi Okowa of the Peoples Democratic Party, PDP, in the 2019 election.
All across Delta Central and Delta South, a consensus has already emerged for the governorship of the state to shift back to Delta Central come next year, 2019.
Ochei, a model of Delta APC's vision and mission – O'tega
In fact even in Okowa's own Delta North, a substantial segment of leaders, stakeholders and the general electorate at large are totally fed up with his Ika-centrist leadership style and have resolved that if the governorship must return to Delta Central in 2019 in order for Okowa to go, so be it, even if their district is thereby restricted to four years.
That is the depth of total collapse of confidence in Okowa administration. Nothing excites Okowa more than the prospect of APC playing into his hands by fielding a candidate from Delta North against him in 2019.
Liberians demonstrate after new banknotes worth $100m vanished into thin air
Okowa knows full well that their fellow constituents from Delta North will decide to stick with him no matter how unpopular he is, rather than gamble with another of their own.
Furthermore, Okowa realizes that because person, if at all he wins, will of course naturally want to go for a second term in 2023 till 2027, thereby potentially giving Delta North continuous control of Governorship of the state for 12 years when other districts did only eight years, neither the people of Delta Central or Delta South will ever vote for him.
Okowa would be calculating that in such a scenario, both Delta Central and Delta South will come to the conclusion that it is better to stomach him for another four years and tolerate his failed administration till 2023 for somebody from Delta Central to succeed him.
As such, nothing would be more self defeating for the APC than to make anyone from Delta North their flag bearer for the Governorship because any attempt to do so will amount to playing Okowa's own script.
What APC needs at this critical point in time, is to rally round a popular aspirant from Delta Central, preferably, someone that is well known across the state and who has credibly confronted the PDP in the past.
We make bold to state that such APC candidate from Delta Central will not just beat Okowa but will resoundingly defeat him, more so with no federal might for the PDP to rely on as in the past.
We assure the National leadership of the APC that nothing would be more politically foolish than for the party to field someone from Delta North against Okowa for nothing will guarantee a second term for his failed administration better than APC  making such a politically naïve mistake.
We equally assure APC that the good people of Delta Central and Delta South will never vote for a candidate from Delta North.
Since zoning is a PDP concept and therefore not binding on APC, the party must resolve to field someone from Delta Central for that is its one and only bet for defeating PDP in Delta state.
Subscribe for latest Videos