By Clifford Ndujihe
FORMER Deputy Governor of Akwa Ibom State, Chief Patrick Ekpotu, has faulted the controversial comment by former governor of Akwa Ibom state, Senator Godswill Akpabio,  that he would lead the "invasion" of the state in 2019, the same manner  Adolf Hitler did to Poland.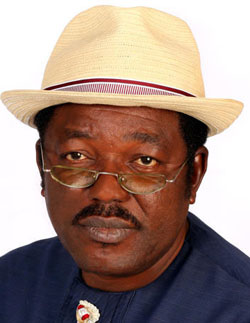 Akpabio made the comment while addressing his supporters at a reception in his honour by some youths in Eket, Akwa Ibom State, after he dumped the People's Democratic Party (PDP) to join the ruling All Progressives Congress (APC).
Piqued by the comments, his deputy in his first term as governor, Chief Ekpotu, in an interview, described the former Senate Minority leader's comments as "unfortunate, insulting to Akwa Ibom people and a threat to the peace  in the state."
Lamenting that it is disappointing for such comments to come from someone, who had ruled the state for eight years, Ekpotu said: "It is a sign of unpardonable naiveté for anyone who has acquired the status of a statesman to make a statement, which alludes to a lack of feeling for that senseless sacrifice of great number of human lives. This is where I differ in accepting that there must be a background limitation to freedom.
"Akpabio is my former governor whom I deeply respect and he knows this. But he does not have to be like most Nigerian statesmen whose frame of orientation still remain utterly illusory due to the accidental nature of their statesmanship. It is only statesmen with such system of orientation that give satisfying meaning to whatever comes out of their mouth, however awkward.
" His various Hitler-like invasions against the opposition in the past had unknown to him, conditioned the people of Akwa Ibom in readiness for his 2019 intentions. "First, the Poland invasion was a joint one claimed to be a defensive action, with the Soviet Union, Danzig, and the Slovak contingent and the Senator has no allies safe the two House of Assembly and two Reps members from his community that he defected with.
Second, Britain and France were not convinced and declared war on Germany, and this is bound to play out during his invasion scheme following Akwa Ibom readiness and mistrust of his defection intentions. Third, it led to the beginning of WW II with a huge cost in human lives which no statesman should gamble with. Germany was to pay for it dearly and Hitler, unable to face the world he thought was in his pocket, was said to have committed suicide. That, essentially, led to the rule of force being supplanted by the rule of law.
"What is his readiness to play the Hitler figure in his envisaged invasion? Hitler was Germany's Commander-in-Chief (C-in-C)and the last time I asked, the Senator is not the C-In-C in Nigeria. And the current C-In-C  is different from the one he knew who could readily surrender a large degree of control of his security forces to him.