By Daud Olatunji, Abeokuta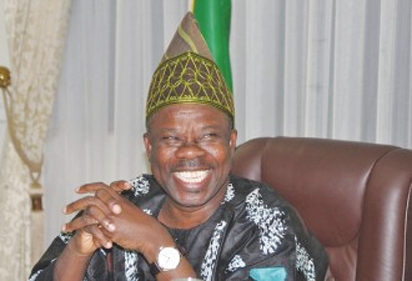 Chairman of Corporate Affairs Commission  and a founding member of All Progressives Congress in Ogun State,Adedapo Abiodun has declared that his governorship  ambition in the state was to sustain the legacy of  the state governor,Senator  Ibikunle Amosun .
Abiodun stated this in Iperu-Remo,Ogun State, on  Friday while  declaring  his intention to vie for the governorship of Ogun State on the platform of the ruling All Progressives Congress (APC) in 2019.
Abiodun, who was the Ogun East senatorial candidate for the APC in 2015 general elections  said he joined the race  to serve the  people of  the state and raise the bar.
He also said his  governorship race was  in order to espouse what he termed "mass-centric" governance, if given the mandate come 2019, describing governor Amosun as hardworking governor whose legacy must e sustained.
" I will raise the bar in Ogun state. I dont have any doubt about it. I am submitting myself. I dont have the doubt that I will bring my experience and bring down the government to the people.
"I will focus on projects that have direct impact on the masses.I will  de-emphasize projects that are just for visibility purpose and concentrate more on those that are capable of adding values to the lives of the people of Ogun",he said.
The CAC chairman, who recalled that he was the youngest person to be elected senator in 1992 and a runner-up during the governorship primaries of the Peoples Democratic Party (PDP) in 2002 in the state, declared  that he will take over the mantle of leadership from the incumbent governor  next year.
He however, commended the national Chairman of APC Adams Oshiomole over the use of direct primaries to elect the party governirship candidates in all the states ahead of 2019 elections .
He said "Our national Chairn has said that the party will adopt direct primaries. Direct primary affords every card carrying member to be carried along. Delegate primary does noy produce most popular candidate. Many primaries have been held in government house. This direct primary has saved the party and stopped further defections .
"Our national Chairman should be commended . President Muhammadu Buhari and Asiwaju Bola Ahmed  Tinubu have agrees with the use of direct primary. I am fully in support of direct primary for the emergence of governorship candidate in Ogun State".
Abiodun however, ruled out any  defection from APC to another party  after the party  primaries if he did not emerge as APC governorship candidate .