…Rights groups kick against detention of protesting women
…IPOB women broke no law—Lawyer
By Innocent Anaba, Chidi Nkwopara & Chinonso Alozie
OWERRI—OWERRI Prison Authority, yesterday confirmed that relatives of the 112 pro-Biafra women remanded in the prison were not allowed access to the women because documentation was still ongoing.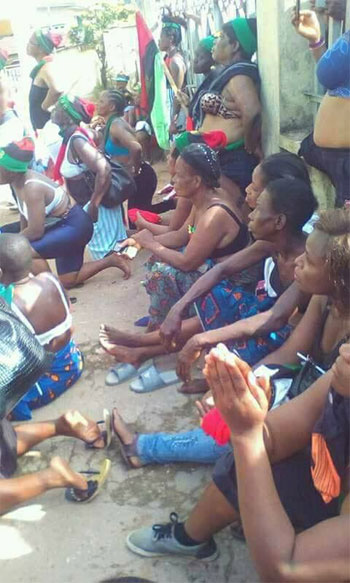 Vanguard visited Owerri Prison yesterday and was told that it would amount to security risk not to have details of those remanded in the prison before allowing them visitors.
Recall that a Magistrate court on Monday, remanded in Owerri Prison, 112 pro-Biafra women.
Vanguard had reported   that the women during their peaceful protest in Owerri  were arrested by the police  after allegedly being tear gassed and beaten by the police. Some of them are  pregnant.
Speaking to Vanguard, the Public Relations Officer, PRO, Imo State Command, Nigeria Prison Service, DSP James Madugba also said the relations would be allowed to visit the women in the prison after their documentation.
He said: "On Monday, over 100 people mostly women were brought to the prison environment by officers of the Nigeria Police Force  who came with warrants from the magistrate courts for us to keep these people in safe custody.
"They came around  5pm. Then, we started recording them and we left office late at about 10pm, including the officer in charge of the place.
"On Tuesday, we continued their documentation. In the process of the documentation, some of their people came to visit them.
"Truly, it is their right to have their relatives visit them. They are also allowed to bring   items that are not prohibited. There is nothing wrong in coming to see their relatives but they couldn't see them earlier because a proper documentation has not been done before they  came.
"Even the Deputy Controller of Prisons in charge of Owerri Prison came out himself and addressed them and told them that it was not ideal to allow people to visit them when they have not been properly documented."
IPOB women broke no laws—Lawyer
However, an Owerri-based legal practitioner, Mr. Aloy Ejimakor has accused the Imo State Police Command of "unjustly arresting, detaining and arraigning the women in court for merely expressing their rights as guaranteed under Nigerian laws."
Ejimakor who made his feelings known to Vanguard yesterday also lamented that "palpable injustice still persists in this land.
"I want to put it on record that palpable injustice still persists in this land. The nearly 120 Igbo women  arrested and detained in Owerri since August 17  2018 broke no known laws of Nigeria," Ejimakor said.
"That right is the right to self determination, protected by Chapter A9, Laws of the Federation of Nigeria, which states that: All peoples shall have the unquestionable and inalienable right to self determination. Oppressed people shall have the right to free themselves from the bonds of domination by resorting to any means recognized by the international community", Ejimakor said.
Rights groups kick against detention of protesting women
Meanwhile, a human rights group, International Society for Civil Liberties and Rule of Law, popularly known as Intersociety and a   coalition of professionals in Nigeria and the Diaspora, Igbo Ekunie Initiative, have called on the Federal and Imo State governments to discontinue and discharge all the 10-count spurious charges of "treasonable felony,conspiracy to commit treasonable felony,   terrorism,etc,  slammed on the incarcerated 114 mothers of the Igbo nation in Imo State.
They wondered why the magistrate, Mrs S.K. Durumba before whom the arrested women were charged in Owerri,  would refuse to discharge and acquit the women or at least grant them bail as prescribed under the law especially as she made it clear in her ruling that her court had no jurisdiction to entertain the suit brought before her.
They further noted that the Supreme Court had declared the unconstitutionality of "Holden Charge,"  upon which the 114 women were arraigned and demanded by a magistrate court that has no jurisdiction to hear the case.
The women are aged between 22 and 70.
Intersociety in a statement yesterday  by its board chairman, Mr Emeka Umeagbalasi, said: "We also demand for their immediate and unconditional release from the Owerri Prison custody and discontinuation of further harassment of such vulnerable members of the  society.
"The incarcerated Mothers of Igbo Nation also deserve apologies and reparative packages for their wrongful detention and being labeled "terrorists" and "felons" in government's panicky and draconian response to their use of "braziers as human rights kits" to protest government's sundry atrocities against their children and husbands."
On its part, Igbo Ekunie Initiative in a statement, yesterday by Mazi Tochukwu Ezeoke, president; and Lawrence Nwobu, secretary, said "We submit that the brazen parochialism of the Nigerian security forces which are ever eager to arrest and detain innocent people from the South East part of Nigeria but opt to protect, aid and abet   herdsmen from the northern part of the country, is not only a fundamental breach of constitutional responsibility, but also capable of igniting an existential  crisis of unfathomable consequences in an already fragile nation under the current All Progressives Congress, APC, administration.
"We find it strange that an organisation that goes to sleep when hundreds and even thousands are massacred across Nigeria by  herdsmen can hurriedly embark on arresting and assaulting harmless and unarmed mothers that are protesting peacefully in Owerri,  Imo State, over the disappearance of Nnamdi Kanu, a man who could no longer be seen or heard ever since the military invasion of his village home in Umuahia, Abia State."