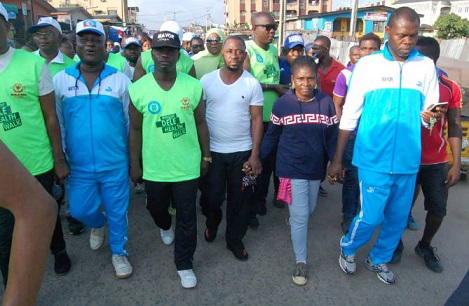 Partakers in the healthy walk
Executive Chairman of Agboyi-Ketu Local Council Development (LCDA), Mayor Dele Oshinowo has said that taking a regular walk will result in multiple health benefits as it enhances not only physical health but also mental and emotional well-being.
He made this disclosure today during the monthly fitness walk for the month of August.
The monthly fitness walk began February this year, as a strategic plan of his administration to improve the well-being of the citizenry.
According to Oshinowo, the monthly walk has attracted no fewer than ten thousand individuals.
The chairman, who was represented by his deputy, Alhaji Mufa Okusi, commended the residents for taking ownership of the walk, as it has galvanized a rallying point to promote unity and peaceful coexistence.
In a brief address after the walk, the Supervisor for Environment, Hon. Peter Bamisaye spurred residents to ensure a clean and safe environment.
According to him, "Walking regularly comes with a lot of benefits to aid better living, but if you don't imbibe hygienic lifestyle, the goal of this walk won't be accomplished"
"Therefore, it is pivotal for you to refresh thought repeatedly in agglutinating a walk and cleanliness, both are tandem in achieving a healthy lifestyle, " he concluded.