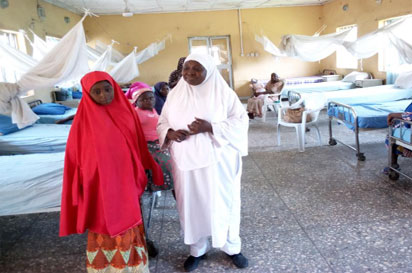 By Chioma Obinna 
At 20, Hafisat Abubakar has had six children. Married at the tender age of 13, she never knew what life had in store for her. Sadly, the cold hands of death snatched away her three children, leaving her with three others.
Three months ago, the last pregnancy dealt one of the greatest blows on Hafisat's reproductive health. After being in protracted labour for five days, she was rushed to a nearby hospital where an emergency caesarian section was performed on her to save her life. Sadly, she had a stillbirth. Worst still, the obstructed labour left her with a prolapsed uterus and a fistula.
Obstetric fistula is an abnormal communication between urinary bladder and genital tract or the gastrointestinal tract, which is the Vesico Vaginal Fistula, VVF,or Rectovaginal Fistula, RF, one of the major complications from prolonged obstructed labour.
Waiting helplessly at the VVF Ward of Hajiya Gambo Sabawa General Hospital, Zaria, Kaduna State, Hafisat today leaks urine. Apparently despondent, her only hope for relief is to be repaired of her birth injury.
The dejected young mother who was sobbing during a chat with Vanguard at the hospital said that she prefers to remove her uterus.
With tears running down her cheeks, she said, "If there is a way to remove the uterus, I will like it."
Asked if she has heard about family planning, Hafisat said, child birth has not been easy for her, but all her efforts to take up family planning were opposed by her husband.
"I know about family planning before now and wanted to go for it, but my husband refused," she said still sobbing.
Still narrating her ordeal, she said, "I usually suffer each time I gave birth. I even went without my husband's consent to a nearby family planning centre in my area. My plan was to adopt the implant method of family planning, but the providers refused to do it for me and demanded that I should come with my husband. I went a second time, but they still refused to do it. So I left them."
"My husband refused to tell me what his fear was. Now he has seen that the problem is much, he said I should go for it," she said with regret.
Hafisat is yet to be repaired because she was brought in anaemic and can barely walk. Although she has spent months in the hospital, the health workers in charge of the hospital say she can only be operated when her health is improved.
However, Hafisat is not alone. She is one of the women who missed the opportunity to adopt any form of family planning. Also, Mrs. Suwaiba Illiya from Jaji, Igabi Local government area of Kaduna State, has spent six years battling with fistula. Suwaiba, a mother of five, have undergone several unsuccessful successful surgeries at the centre.
She is heartbroken today because her husband has left her and the children. "I have gone through untold sufferings; fistula has taken away my dignity. I wish I knew about family planning before now, my story would have been different." Today, she has been repaired and placed on family planning.
Health workers at the centre explained that Subaiwa was placed on family planning to prevent relapse, possible unplanned pregnancy and ensure that she is completely healed.
Another victim is Saudatu Suleiman, 55, who has been living with the condition for 28 years. She married at age 27 with two surviving children from four pregnancies, after traumatic experiences. All her deliveries were difficult and made possible through caesarian section.
"When I and my family could no longer bear the pains and sufferings of fistula my mother-in-law asked the doctors to do tubal ligation for me even while I was in the operating room.
"Today, the permanent family planning method has saved my life," she said.
Hafisat, Saudatu, Subaiwa are part of the over 200,000 Nigerian women living with fistula and 12,000 new cases that occur each year, according to statistics from Engender Health, a USAID funded project.
Today, indications show that increasing missed opportunities for family planning uptake among women of reproductive age can be drastically reduced by ensuring universal access to family planning service via well-trained providers and counselors of its various methods in all obstetric fistula centres.
Experts have also confirmed that innovative approach like the provision of integrated reproductive health service and improved client counseling is enhancing acceptance of family planning among clients.
Dr. Hussaina Adamu, a trained Fistula Surgeon at the Hajia Gambo Sawaba General Hospital, Zaria, who corroborated this, said that in Nigeria, prolonged obstructed labour accounts for more than 90 per cent of fistula cases.
But, he noted that providing family planning services in fistula centres would alter the high figure thereby closing the gap of missed opportunities among Kaduna fistula clients.
Obstetric fistula is no doubt, life shattering for victims. It leaves its victims with chronic incontinence, which often results in social isolation.
In most cases the affected women are maimed for life, rejected and osctracised, while some end up childless, abused even thrown out of marital homes by their husbands like Suwaiba.
To say that women who suffered fistula are stigmatised and traumatised is an understatement because often many of them end up as destitute, without anyone to rehabilitate them.
However, fistula experts say family planning is strategic to reduce increasing cases of fistula and improve the quality of lives of the women.
A visit to one of the 20 bedded wards of the Hajiya Gambo Sawaba Fistula Centre, Zaria, Kaduna where Hafisat, Hajara, Sawuiba and many others are receiving treatment confirmed these findings.
A trained nurse in-charge of the Hajia Gambo Sawaba Fistula Centre, Mrs. Fatima Amina Umar told Sunday Vanguard that family planning was a major strategy the hospital was using to manage the victims.
Umar who explained that although a few number of fistula clients sometimes turn down family planning services due to the loss of their child to complications of labour, said they were able to convince majority of them to accept family planning through application of proper counseling by trained providers.
"All our patients after Catheter treatment and successful fistula repairs are advised to stay off sex for a period of six months or longer.
This is to enable them rest and delay pregnancy. Family planning is also used to protect the repaired patient from possible relapse. We have a family planning unit where they are offered services free."
The Centre Manager said, "We insist on family planning for all patients, because it will prevent recurrence of fistula and increase the family planning utilisation in the state."
Family planning is an effective strategy for preventing fistula because it enables couples to delay early childbearing and to avoid unplanned pregnancy.
Corroborating her views, Dr. Adamu, said generally, family planning is accepted as child spacing in Kaduna. It helps women to recuperate after a delivery and get back to normal life.
For fistula clients, who have undergone serious psychological trauma, family planning is vital in their treatment.
Adamu who explained that fistula can be prevented from the antenatal stage, said introduction of family planning to fistula clients are addressing missed opportunities as well as unmet needs.
Adamu said voluntary access to family planning helps families make decision when and how many children they want to have and prevents occurrence of fistula.
She said currently, Kaduna State is closing the gaps among women who missed opportunities of adopting family planning at the obstetric fistula unit of the hospital.
Her revelation apparently corresponds with findings by earlier studies which revealed that family planning has been proven to achieve complete healing for fistula patients after a repair.
The research which was carried out by carried out by the United Nations Population Fund, Nigeria, Igbinedon University, and the World Health Organisation, WHO, also showed that family planning prevents the occurrence of 12,000 annual new cases of fistula, thereby increasing the number of uptake of its various methods among Nigerian women.
Also, in the study entitled "Missed Opportunity for Family Planning among Obstetric Fistula Clients in North-Western Nigeria", it was assumed that repaired fistula clients shun family planning services due to the loss of their child in the process, but findings showed that these women during post-operative period often accept the methods.
In the views of Clinical Associate, Engender Health, Fistula Care Plus, Dr. Abiodun Amodu, explained that findings by the Engender Health show that an estimated one-third of all childbirth-related deaths and injuries could be prevented if women had greater access to contraception.
"Family planning is also important for preventing the recurrence of fistula following surgical repair," he said.
Noting that couples often do not comply with recommendation to stay away from sex, he said with family planning, even if couples resume sexual relations early, it helps victims of fistula to recover from the trauma and psychological experience, without worry for unwanted pregnancy.
As part of closing the gaps among women who missed opportunities of using family planning, Engender Health, provides a second chance for predischarge family planning services for them following surgical repair.
He said that Fistula Care has pioneered the integration of free family planning services into postrepair fistula programs in centres across Nigeria.
Engender Health has trained family planning providers on how to counsel fistula women and their spouses about their future reproductive health and childbearing intentions following fistula repair.
Further investigation by vanguard showed that their efforts are currently helping to increase the number of users of family planning apart from forestalling reoccurrence of cases.
The centre is said to be seeing less number of women with fistula cases compare to the past when 10 to 15 patients are seen every day in the hospital
Throwing light on how fistula clients and others are introduced to family planning services, Principle Nursing Officer, and family planning provider, Mrs. Hajara Garba said the centre offers high-quality family planning services and a wide range of methods for fistula women to protect their health.
For her, family planning remains vital for women who have had a fistula surgery. Contraception helps to protect a repaired fistula and prevent breakdown and recurrence by delaying pregnancy.
Garuba disclosed that most fistula clients usually go for long acting contraceptive like Jadelle and implants, because they spend a long time in the hospital.
"This facility is a high volume facility. At least in a month, we used to render services to nothing less than 200 people including fistula clients. We offer them various contraceptive methods including injectables like Depo-Provera, oral contraceptive like the pills, condoms, intrauterine device, IUCD are given within 48 hours after birth.
The Federal Government in 2017 set a target of 36 percent Contraceptive Prevalence Rate, CPR, by 2018, from the present 15 percent, according to the 2013 National Demographic Health Survey, NDHS.
Consequently, States like Kaduna is expected to attain CPR of 46.5 percent and this requires the provision of family planning services and information to all women of reproductive age at every contact with the health system with obstetric fistula centres as part of it.
Health watchers say good counseling for family planning as obtained at the Zaria Fistula Centre shows that prevalence of missed opportunity for family planning uptake can be surmounted with well-trained family planning providers and counselors in all the centres. They also believed that activities of organizations like Engender Health will help reduce the unmet need in Kaduna state.
Subscribe for latest Videos