By Benjamin Njoku
The Igbo Studies Association, ISA, held its 16th Annual International Conference and Meeting between May 10 and 12 at the Dominican University, River Forest, Illinois, USA.
According to a statement made available to Vanguard by the public relations officer of the association, Chijioke Azuawusiefe, the three-day event of intellectual abundance and social exchanges, themed "Igbo Ga-adi: Projecting Igbo Values and Customs," interrogated the question of negotiating Igbo identity and existence in a globalized world increasingly impacted by new media technologies and social media.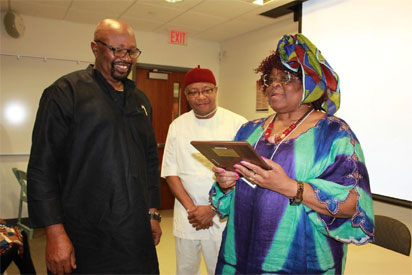 The confab explored "qualities [that] help the Igbo people to endure travails and tribulations and survive, again and again," said ISA President Professor Ada Uzoamaka Azodo in her welcome remarks.
The Igbo persevere through "circumspection, meaning, looking critically at options before action, and even in acting avoiding extremism," said the professor of French and American Studies at Indiana University Northwest, Gary, Indiana, USA.
Eminent poet and literary scholar, Professor Chimalum Nwankwo gave the Ihechukwu Madubuike Annual Keynote Lecture titled, "Retrospectives and Projections: Igbo Cosmogony and Sustaining Epistemologies for the Future." Nwankwo extolled the Igbo resilience, industry, and ability to negotiate new identities on novel frontiers. "Ndigbo must pay attention to how [their] world intersects with those of other peoples and their ontologies," said the professor of literature and English.
Rising to President Azodo's and Professor Nwankwo's invitations, participants discussed the state of Ndi Igbo vis-à-vis their culture, customs, language, religions, epistemologies, gender relations as well as their security, development, politics, economics, and interactions in today's Nigeria and the world.
Coming from diverse disciplines – like history, literature, linguistics, media and communication, African studies, and religious studies – participants presented high quality new research on their scholarly, pedagogical, creative, archival, political, and customary practices around Igbo studies.
The university academics, independent scholars, students, educators, entrepreneurs, and non-profit organizers from Nigeria, the United States, and Canada, delivered dozens of papers, workshops, roundtable panels and discussions as well as displayed an array of art exhibitions, book and clothes sales, music, and dance performances.
Subscribe for latest Videos