Declares public holiday's for PVC collection
By Chinonso Alozie, Owerri
The Imo state governor, Rochas Okorocha, Thursday advised that Presidential aspirants should not rely on the Igbo to become President of Nigeria.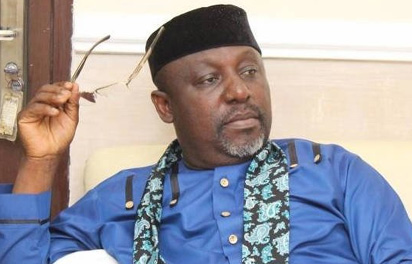 Okorocha who spoke in Owerri, claimed that "there is pull him down syndrome in Igboland."
This is as the governor declared Wednesday and Thursday as a public holiday for workers to go and register and collect their Permanent Voters Card, PVC. He went further to say that, markets would be closed.
In his thinking, "No Igbo man should rely on the fellow Igbo man to be president. I will like to tell you that, I stand a better chance to be president but do you know what, there is a lot of pull him down syndrome in Igboland.
"It is in their character. But what we are doing right now, is to make sure that the Igbo people do not play same bad politics they played in 2015. In that 2015 election, the Igbo played a bad politics.
"This time around, we want to change the narrative and as part of the process two governors will join APC."
On the issue of workers salaries, Okorocha said: "July salary will be delayed. Let me tell you that the July and August salaries will be paid at the same time.
"It is good that you know the 70/30 percent formula of payment to Imo workers is gone. We now pay full salary. Again, workers in Imo state are promoted but the promotion do not include parastatals. The reason is that they are independent of the government institution."