By Kabiru Muhammad Gwangwazo
As we hurtle towards 2019, it is as if all the brakes on the Nigeria Vehicle have been loosened by some mischievous devil, and we still have a whopping seven months to go to the elections. Also, we all know that in politics, even 24 hours is a very long time, time enough for springing surprises.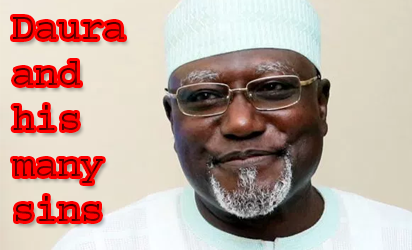 Of course it is obvious thus far it is very unlikely we see any major change at the Villa in 2019. Mark you, not much because of anything General Buhari has done in his three and half years. But more because of the failure by the opposition to raise a credible team and a candidate to match.
Not many have any serious hopes on PDP at the centre or even such states as Kano and most of the North, apart from those for whom the party and its way of doing things has always been home. There is for now no candidate or team ready yet to take on GMB. That is what the political tea leaves say. That is not to say, the APC has much of a chance in states up north here, mainly by deliberate acts of commission and omission.
Anyway only this very week that we are now wrapping up, by God's Grace, another chapter of the Executive/Legislature face off was added to Nigeria's history books.
For the first time since the GMB government came into office in 2015 it has up-ended all cynics by doing the unthinkable; its sudden and unceremonious sack of D-G, DSS Lawal Musa Daura, a veteran spook who has been around for more than 30 years in the service.
Many would say Daura was sacrificed on the altar of politics as the fall guy. Or even for the fear of the threat of sanctions, banning all our top men from traveling to Europe and the US.
The "common sense Senator" from Bayelsa State, Ben Murray-Bruce did hit at the topguns of Naija where it hurts them most on the matter that consumed Daura and gave us Ben Bruce's fellow Bayelsan as Acting D-G at the Yellow House. The new chief spook from Bayelsa looks like a familiar face who had also served in Kano under PDP's GEJ and Rabiu Kwankwaso as Governor. Lawal Daura was Director in Kano too, more than 20 years ago.
Speaking to the world press in front of the National Assembly as Senators were barred from the chambers, Bruce told them and the world a list was being compiled of those involved with the invasion of the National Assembly by the masked SSS team and that they would have their visas to Europe and the US revoked.
They surely won't take any such threat lightly. The Nigerian ruling elite are so insensitive and irrational they haven't yet seen reason enough to ensure quality medical care here. Even headaches and catarrh have to be treated abroad. Allah Sauwake! (God forbid!).
Anyway, Acting President Osinbajo, axed the DSSS boss who had before then been untouchable. He it was who sent a damning report on EFCC boss Ibrahim Magu that gave the Senate the weapon to reject his confirmation despite the executive's pressure and request they do so.
Government is one holistic piece made up of the three arms — the Executive, Legislature and the Judiciary. That is why the whole of government is referred to as The Three Arms, of course with the Media as the Fourth Arm to provide the market place of ideas to ensure additional checks on all the three.
Yet, because of the long years of authoritarian and despotic military rule, the two other arms have become so subjugated that every whim of the executive is taken as law.
This ignores that it is the Law the Assembly is expected to craft and the same Law the Judiciary is expected to interprete, right or wrong. The Executive never does any wrong in the eyes of the ill-educated and those who take pleasure in selfish subversion of the democratic process. It is that culture of an all-powerful executive that has foisted a practise of executive rascality and impunity on us at all levels.
What is however foolishly overlooked by those sitting in offices of the executive as elected or merely appointed agents, is that such positions are so transient, so temporary that the tormentor could well be the tormented by a mere change of government. As in the case of D-G DSS, Lawal Musa Daura it wasn't even a change of government that has turned him into the tormented.
A political manouevre gone wrong earned him the sack, and now handed him over to EFCC's Magu. We all know Magu was a colleague of Daura on the same executive turf the D-G had tried to make miserable for him only a year or two ago; all in pursuit of internal petty wranglings among the men of power using one another as GMB's appointees as foot soldiers and tools for cynical Machiavellian schemes.
The Police IG also recently refused to answer summons until it suited him, and there was no reprimand from his direct employer, the executive. Earlier the NASS, some may say unreasonably summoned EFCC's Magu, at a time his agency was sniffing around Senate President Bukola Saraki's family. Expectedly, Magu refused to turn up at the Senate; only after a lot of water had passed under the bridge did he honour the NASS invitation.
God forbid a time when the tormentor turns tormented. But the best way to stave of such a possibility is for all appointees and holders of any office, elected or not, to keep reminding themselves of the transience of the office they occupy. It should be a daily litany, to recall how temporary power is. It is said, unless it (the seat of power, you presently occupy) has slipped from someone it'd never have been passed on to you.
It will be well to recall that at a time many heads of state, presidents and governors and other men and women of power found themselves behind the bars they used to have keys to, locking perceived and assumed enemies. For instance Obasanjo was Head of State and later Guest of the State in jail; then he was sprung and made head of state again for all of eight years. How many former governors are  today facing the courts and inquisitions of all sorts? Many are already behind bars. And many have been.
It is well to see the rise and fall of D-G Daura in the context of the use and misuse of the powers of office. In fact, it is well to keep in mind the use and misuse of these same offices by his predecessors too. The national interest at every turn needs be judiciously addressed with a clear conscience, looking at issues dispassionately. People in power and their agents need to know if they allowed themselves to be used for selfish regime matters they could also be sacrificed by the same regime when the heat gets turned on it. Because the first rule is for the topmost guns to find a cover and find someone to take the rap for them.
It would be well to be cautious at all times and chew whatever "instruction" you are given, to be sure it is legitimate and in the national not partisan political regime interest.
Subscribe for latest Videos