By Egufe Yafugborhi
PORT HAR-COURT— NATIONAL Oil Spill Detection and Response Agency, NOSDRA, has said that stakeholders are  handicapped in the actual cleaning of oil polluted Ogoniland, Rivers State, due to continued oil spill and illegal refining in the area.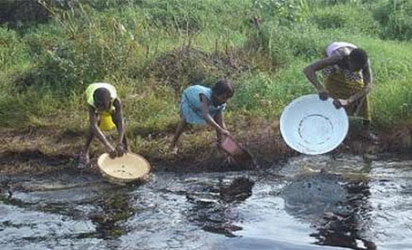 Port Harcourt Zonal Director of NOSDRA, Cyrus Nkangwung, who made the disclosure, said that the development had caused  delay in implementation of the United Nations Environmental Programme, UNEP, cleanup directive following  the growing health dangers on a large scale in the polluted Ogoniland.
He also said that the challenges with proper disposal of large volumes of stolen oil impounded from illegal bunkering syndicates had also aggravated the pollution in the area.
Nkangwung said, "The problem in Ogoni is that we are afraid that if we clean up the place, it will be polluted again. Re-pollution will become a problem and we will be wasting money.
"Right now,  if you go to Bodo, you will discover that the place that had been cleaned has been re-polluted by a seized vessel by the army. The vessel sank and released oil into the water environment. That is a fear we are having and it appears as if everybody is handicapped by it."
On efforts at checking some of these challenges, Nkangwung said a Harmonised Standard Operating Procedure, HSOP, was being put in place to guide stakeholders on proper handling and disposal of seized oil products without aggravating the pollution in the land.
"Now we are working in synergy with Navy and the Army, NNPC and other stakeholders. A  HSOP about to come onboard, where if the military seizes a vessel, NOSDRA takes statistics of what is there, then we hand it over to NNPC for recirculation.
"With that,  there will be no more burning of products. If you observe now, burning has reduced because they know we are burning and wasting money. Collect them and give it to the appropriate agency for recirculation and it becomes resources to help the environment again."