By Godfrey Bivbere
Some stakeholders have faulted claims that insecurity is part of the reason why the port in Warri is presently under utilised.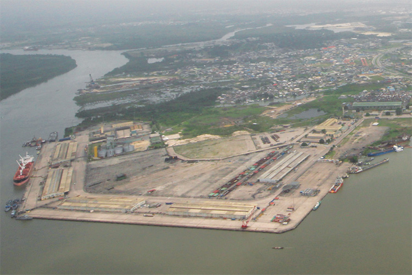 Reacting to Vanguard Maritime Reports' story "Why Eastern, Delta ports are not utilized by importers," former National Financial Secretary of the Association of Nigeria Licensed Customs Agents and Warri based Customs Broker, Prince Val Johnbull Oribhabo, said that piracy and attacks on vessels calling at the port in the Delta area has not been recorded for many years now.
Oribhabo, who was also one time Chairman of ANLCA, Warri chapter, said everything needed for the port in Warri to function effectively is in place but for the channel which is yet to be dredged.
He therefore called on the federal government to give concession to importers using the port in Warri as a means of encouraging others to move their consignments there.
Similarly, President of the Ijaw Youth Council, Eric Omare, told Vanguard Maritime Report, that security is not a problem in Warri port. Omare explained that the problem emerged in the past because government was fond of embarking on projects without involving the host communities which breeds misunderstanding.
According to him, "The problem with security in the most developmental process is when the relevant stakeholders are not carried along.
"And I have made that point to the management of Nigerian Ports Authority, NPA, that as much as the relevant stakeholders are carried along there will be no problem.
"To carry them along means before you start a work you must reach out to them, let them know what you are doing, these are the opportunities available, give them what is due to them when they are available.
"But in the past, we have had situations where you are going to work in a commumity or you go and discuss with people in another community or you bring people from community A to go and work in community B, that is where you have problem.
"Piracy attack is a general security challenge that we have in the nation. But our belief is that once people are constructively engaged, this can be reduced. Crimes are as a result of lack of opportunity to engage the youths.
"We are working so that this crime can be reduced. But those people who are adamant, we will make sure that they are brought to justice," he concluded.